Many of us like to place carpets in our homes. This is so because they not only make your room look lovely but also release some cozy vibes in the whole room. And who does not want a relaxing environment after a long, tiring day? However, your lovely carpet may not seem lovely anymore if it looks discolored, or has dirty patches over it. You might vacuum your carpets regularly, or even get professional carpet cleaning services for your carpet; however, spills and stains are events that are bound to occur.
Carpet stains may not be easy to avoid, however, quickly getting rid of them can prevent your carpet from any lasting damage. Shiny Cleaners has been making the carpets of the people living in Mississauga, Milton, and Oakville shiny for many years. Our goal has always been to provide you with the best carpet cleaning experience so that you fall back in love with your carpet. For this reason, our shiny cleaners have some expert stain removal tips to get rid of stubborn carpet stains such as ink, blood, coffee, wine, and pet stains.
Do you live in Mississauga, Milton, Oakville, or Toronto? If yes, reach out to our cleaners at 289-236-0898 or email us at info@shinycleaners.ca.
Some Basic Tips to Know Before You Remove Carpet Stains
Be quick
Remember not to rub the stain in the carpet, and only blot it out
Always use a clean microfiber cloth
Do a patch test on your carpet, before using a stain removing product
Top 5 Carpet Stains to clean at Home
Ink Stains on Carpet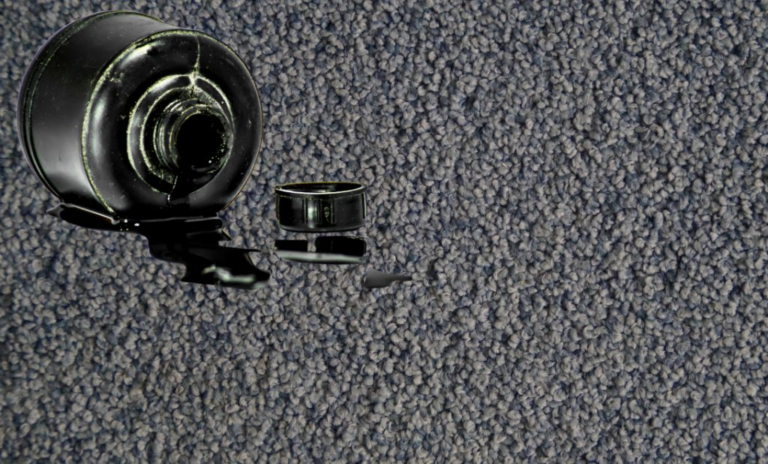 A pen can easily slip from your hand as you write and while your pen stays safe, however, your carpet does not. The ink from your pen can stain your carpet and can be havoc on your lovely plush carpet as they are very difficult to get rid of. And rubbing the stain inside your carpet can make these carpet stains worse. Ink stains not only discolor your carpet but also make it look untidy.
But worry no more, our amazing carpet cleaners have some magical ink stain removing tips that you can use to relieve your carpet from this ink mess.
Take isopropyl alcohol. Make sure you take a highly concentrated solution for best results.
Now, take a clean, light-colored or white microfiber cloth and moisten it with isopropyl alcohol.
Dab the damp cloth on the stain, and avoid rubbing the stain in the carpet because rubbing will spread the ink all over your carpet.
Let the ink stain rest for 5-6 minutes.
Clean off the access alcohol from the stained area using water.
Pat dry, and then vacuum till your carpet dries.
Blood Stains on Carpet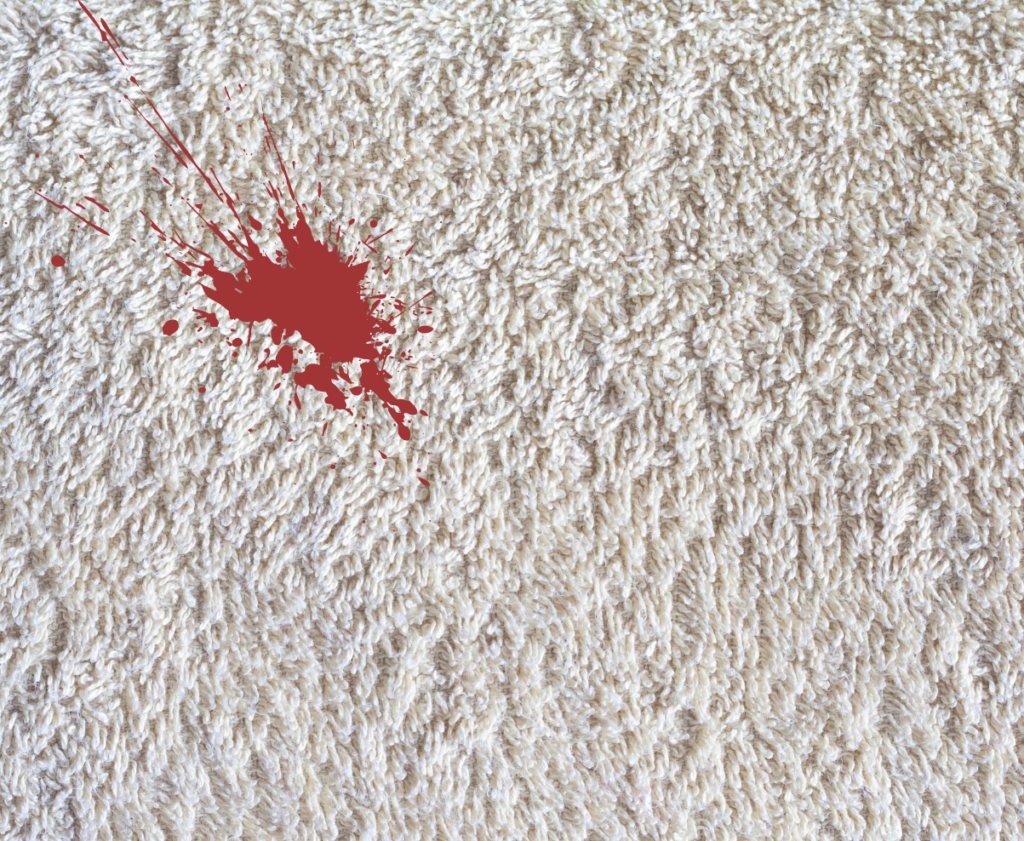 Bloodstains are quite common, especially where children and pets live. Nose bleeding, scratches, and cuts are the common causes of blood stains on your carpet. These carpet stains can be stubborn, and messy if they are not cleaned timely, and in the right way. Our carpet experts have got you covered with these amazing blood stain removal tips. We can assure you that your carpet will look just as good, as it used to before the stain.
Always Remember to use cold water, instead of warm while dealing with blood stains as warm water attracts blood to the carpet fibers, making the stain worse.
Take a spray bottle and add a cup of cold water, and ½ a tsp of dishwashing soap.
Spray the mixture on the blood stain, and blot out the stain using a clean, light colored soft cloth.
Now, take another spray bottle and add OxiClean in it. Properly mix it in cold water and then spray it over the stained area.
Pat dry the excess liquid, and then rinse with cold water.
Dry the stained area using a clean microfiber cloth, and vacuum.
Coffee Stains on Carpet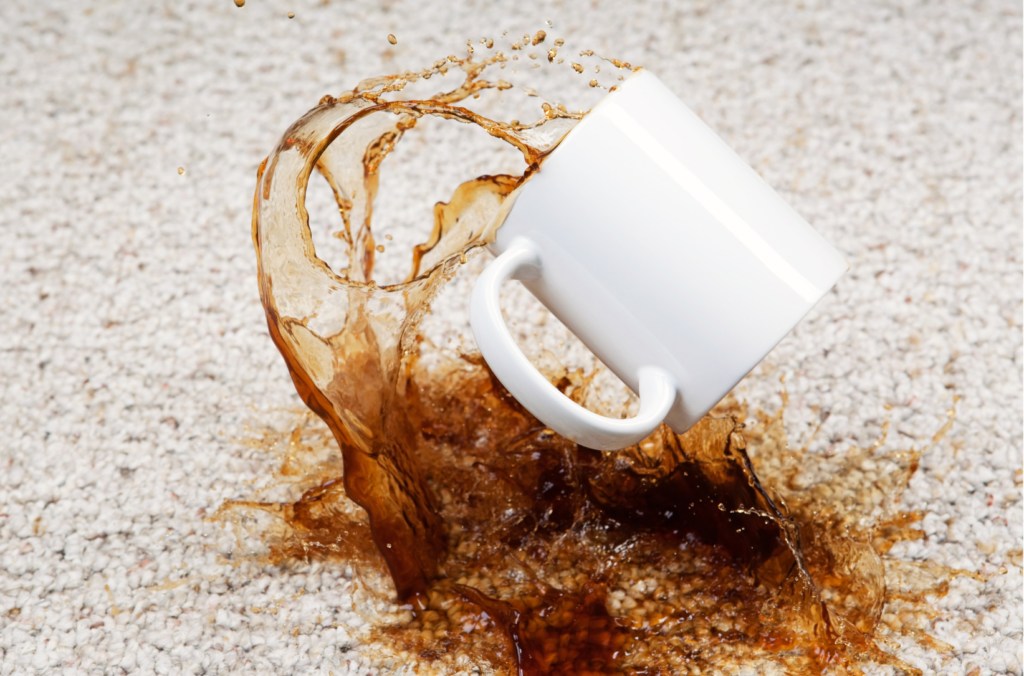 Who doesn't like coffee as the first thing in the morning? While it does wake you up and make you feel fresh, however, one trip on the carpet can form stubborn stains. Coffee stains can make your carpet look old, discolored, and dirty. This is why we want you to get rid of the stain before it gets rid of your carpet's beauty. Our shiny carpet cleaners have an amazing trick to get rid of these stubborn carpet stains:
Blot out the fresh coffee stain from your carpet, and soak up as much liquid as you can using a clean white cloth. If the coffee spill is huge, make sure you keep on changing the cloth.
Take a spray bottle and add 2 cups of warm water, ½ tsp of dishwashing soap, ½ tsp of white vinegar, and mix.
Spray the solution on the coffee stain, and use a clean, light-colored microfiber cloth to blot out the liquid from your carpet.
Repeat the process until the coffee stain disappears.
Dampen a clean cloth with cold water and dab it over the stain area.
Pat dry the stained area with a clean cloth, and then vacuum to completely dry your carpet.
Red Wine on Carpet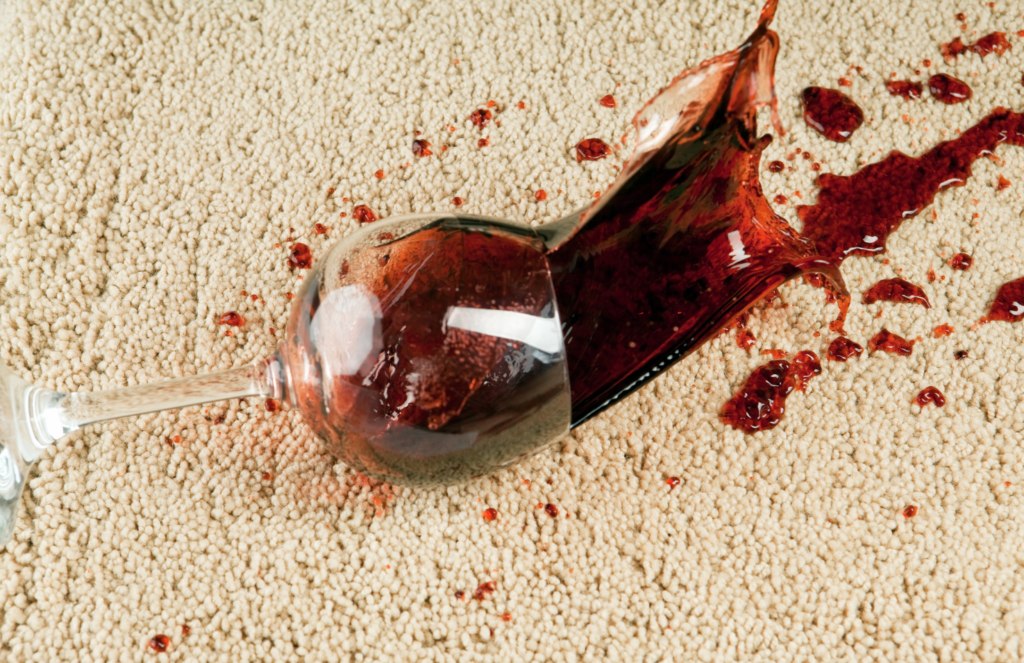 You had a lot of fun at the weekend party, but this fun can turn into a nightmare after a glass of red wine spills on your elegant, white plush carpet. Now, who would want that? No one, right? But, such accidents cannot be predicted beforehand, this is why our expert team at Shiny Cleaners has formed an amazing tip that can save your lovely carpet from getting dumped into the bin.
First things first, blot out the fresh red wine from your carpet using a clean, soft cloth, and remember: No rubbing.
Sprinkle a few drops of water over the stain, and blot it out.
Now, take a bowl and add 1 tsp of baking soda, and a few drops of water. Keep adding water in the baking soda till a paste like consistency forms
Apply this paste over the stain and let it rest for a day.
Scrape the dried paste from your carpet, and vacuum.
Pet Stains on Carpet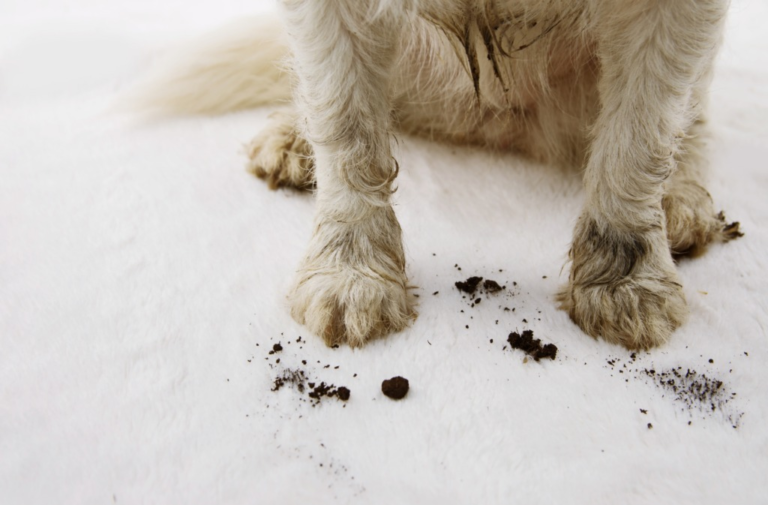 No matter how much you house-train your pets, or train them to wipe their paws on the doormat before entering the house, they can end up staining your lovely plush carpet. One thing is evident and that is we cannot avoid pet stains; however, we can get rid of them. Professional carpet cleaners at Shiny Cleaners have always been working, tirelessly to provide you with the best carpet cleaning services and tips so that your carpet breathes again.
Here are some useful tips to get rid of pet-caused carpet stains. Moreover, you can also visit our blogs 11 Easy Carpet Cleaning Tips for Pet Owners, and How to Remove Pet Urine Stains and Odor from Your Carpet, for detailed pet stain removal tips.
If pet urine is still fresh, blot out the urine using a clean, light-colored microfiber cloth avoid rubbing it inside the urine. Keep blotting out the stain till your carpet seems dry.
Incase of dry debris, remove it from your carpet using a putty knife and dustpan.
You can remove dry stains using vinegar and baking soda. Just moisten the pet stain using vinegar and then sprinkle baking soda over the stain. Let it rest for a day, and then scope the dry baking soda from your carpet. In the end, just rinse with clean water, and blot dry.
To get rid of foul odor from your carpet, use a carpet cleaning solution that has enzymes. Enzymes fights deep carpet stains and neutralizes odor in your carpet.
Frequently Asked Questions
Will Professional Carpet Cleaning Remove Stains?
Yes. Professional carpet cleaning deep cleans your carpet and gets rid of all the stubborn stains. This is so because professional carpet cleaners are equipped with the right cleaning equipment. Feel free to contact Shiny Cleaners for the finest carpet cleaning services in Mississauga, Milton, Oakville, and Toronto.
Why do Stains Reappear After Cleaning?
Stains reappear on your carpet because of the leftover cleaning shampoo as it attracts dirt and dust towards it. Always make sure your carpet is free of any shampoo residue.
Can I Dye Carpet Stains?
You can dye stain spots on your carpet, but make sure you dye them with the right color, otherwise you will end up ruining your carpet.