Contact Us
Shiny Carpet Cleaners
Mississauga, Milton and Oakville

Cleaning and disinfecting surfaces are the most effective technique to eliminate germs and prevent diseases from your carpets. Hard and soft surfaces are the two major types of surfaces in any place. The capacity to use disinfectants on "hard, nonporous surfaces" is explicitly stated on the labels of most EPA-registered disinfectants. While some cleaning products advertise "soft surfaces," this is a sanitizing promise.
It is difficult to efficiently destroy all, or 100 percent, of the germs throughout the carpet, disinfecting soft surfaces is impossible. Hot water carpet extraction is the most effective way of cleaning carpets. A carpet extractor may be used to disinfect a carpet. Heat isn't tolerated by all carpets, though. Regular carpet extraction is the next best sanitizing option if this is the situation in your facility. To remove dirt and germs from carpets, carpet extractors employ agitation.
Can carpets be easily disinfected?
This is an example of text entered into an accordion module. The reader can choose to display or hide accordion text.
What are the equipment, tools and materials we use for sanitizing carpets?
A vacuum, a spray bottle, a steam cleaner, and a circulating fan that is not used often. The materials we use are cleaning strength distilled with vinegar and an EPA-approved sanitizer.
How to keep your carpet clean for an extended period?
Vacuuming at least once a week is recommended. Outside and inside entry spaces, place washable mats. Before treading on the carpet, bathe pets and remove all shoes.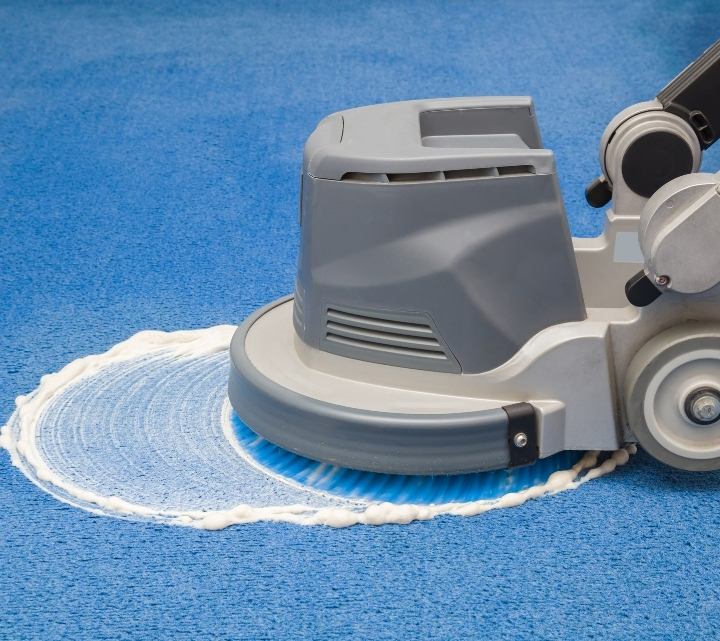 When it comes to carpets, keep in mind that cleaning, sanitizing, and disinfecting surfaces in homes, schools, and public places are all different. The Centers for Disease Control and Prevention (CDC) established these categories for microbial contamination. Vacuuming is always the first step in any carpet extraction technique. If you don't vacuum dry soils before utilizing a carpet extractor, you'll end up with a muddy solution. Our sanitizing process:
Move as much furniture as possible out of the way before commencing a carpet deep cleaning.
Vacuum as much loose debris, dust, and allergens as possible before thorough cleaning and attempting to disinfect a huge carpet or wall-to-wall carpeting.
On the fibers, spray the sanitizer. Allow for a five-minute cooling period before wiping with a clean white towel.
We steam clean the carpet by following the manufacturer's instructions for the steam cleaner and the cleaning solution mixing instructions.
Finally, we let the carpet air dry for at least eight hours, although it is preferable to let it dry overnight.
We have selected a high-performing carpet sanitizer that may improve cleaning efficiency and yield better results. You should look for a CRI certified carpet extractor in the same way that you should look for a CRI certified vacuum. The greatest strategy to limit the number of germs in your carpet is to clean it and sanitize it. The first stage is vacuuming, and the last and most efficient phase is extraction.
Our professionals are highly skilled in all aspects of carpet care, including fiber identification, dirt analysis, cleaning and disinfection, and fabric maintenance, so you can relax knowing that your house is in excellent hands. Shiny Carpet Cleaners representative will be able to take care of any difficult stains or repairs for you. Sanitizing kills 99.99 percent of germs, but the .01 percent that remains can leave thousands of bacteria alive which is why we put our all into it.
Great people and the highest possible quality of work. Customer service is # 1.
Switched here after another cleaner ruined my carpet. Great staff!
What a fantastic company! They were on time, polite and did an excellent job.
Very conscientious, friendly and accommodating - great job all the way around.