Who doesn't like pets? We are sure you love them as much as we do. However, your pets may not be as friendly with your carpets as they are with you. Pets can dig holes, chew, scratch, and even soil your carpets with urine. Pet urine stains ruin your carpet and leave a very bad odor in your whole use. Also, pet urine is difficult to get rid of from the carpet because it does not stay on the surface. The pet urine goes down deep to the back of your carpet and the floor of your house. What should you do? Is throwing the carpet outside of your house to get rid of the stinking odor a good idea?
Removing pet urine stains and odor from your carpets is not difficult anymore because we are here to help you. Shiny Cleaners is a Mississauga-based carpet cleaning service provider. We also offer carpet cleaning services to the lovely people of Milton and Oakville. This blog has some expert tips from our carpet cleaners. You can follow to get rid of any pet accidents on your beautiful plush carpet and save your house from smelling bad.
If you live in Mississauga, Milton, Oakville, or Toronto, contact our expert carpet cleaners at 289-236-0898 or write to us at info@shinycleaners.ca.
Why Do Pets Soil Your Carpet?
House–Training Pets
Pets take time to settle in your house because it is a completely new environment for them. This is why house training your pets takes some time and effort. As pets find it difficult to understand and pee outside the house, they soil your carpets. If you do not clean the pet urine on time, it stains your carpet very badly, and these stains ruin the complete look of your carpet. If you feel your cat or doggo is taking a lot of time in house-training, contact a professional vet right away.
Pet's Age
With age, the memory of pets may start to decrease. Because of this, they may pee on your carpet rather than going outside. Also, diseases such as diabetes, urinary tract issue, or kidney disease can cause your pets to pee on your carpet. This bladder inconsistency is a disease in pets which should be diagnosed and treated by professional vets. Take your cat or doggo to a good vet so that they are relieved from such diseases, and your carpet stays clean and odorless.
Pet Stained Area
Another reason that makes your pets pee on your carpet is older pet stains. Your pet will keep on coming to the same area of your carpet where they last stained because they can easily smell their scent. Since older stains attract pets towards them, you should keep an eye on your pet and make sure you properly get rid of those pet stains. This is important to avoid any further pet accidents. So, make sure your plush carpet is free from any kind of pet odor.
Get Rid of Pet Urine Stains with These Simple Tricks
Homemade Pet Stain Removers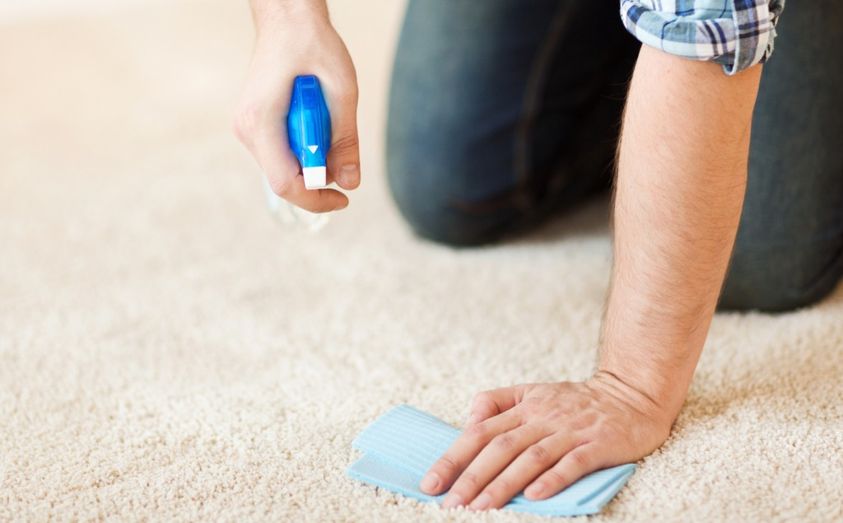 Solutions made at home are not only cheaper than store-bought pet stain removers, but they are also carpet friendly. This is so because they do not have any harmful chemicals. All of the following pet urine stain removers are tried and tested by our expert carpet cleaners. However, we still advise you to first do a patch test, just in case, before using it on the stain. We do not want your carpet to be discolored or ruined.
Also, like always, our expert carpet cleaners advise against rubbing moisture in your carpets. Always pat dry the liquid so that it does not go deep inside your carpet.
Baking Soda and Vinegar Solution
If the stain is fresh, try to blot out as much of the pet urine as possible with a clean paper towel
Add a few drops of vinegar to the stain
Sprinkle some baking soda on the stain
Let it rest for a day. Remember to cover the stained area with a lid or a plate
Scrape off the baking soda the next day
Clean the stained area of your carpet with water
Pat dry with a clean white towel
Hydrogen Peroxide Solution
Take an empty spray bottle
Add 2 tbsp of slightly warm water to the spray bottle
Now add 4 tbsp of hydrogen peroxide and a few drops of liquid dish soap
Lightly mix the ingredients in the bottle
Spray the mixture on the pet stained area
Let it rest for 5-6 minutes
Rinse the stained area with water
Pat dry your carpet using a clean towel
Detergent
Take a spray bottle
Add ¼ tsp of dishwashing detergent in 1 cup of mildly warm water
Shake the bottle so the formula mixes well
Spray the mixture on the stained area
Blot out the stain using a clean paper towel
Repeat until the stain disappears
Rinse the carpet area with cold water
Pat dry the water on your carpet and vacuum
Ammonia Solution
Take a bowl
Mix 2 tbsp of ammonia in a cup of water
Pour this mixture over the pet stain on your carpet
Pat dry your carpet with a clean towel and then vacuum
We recommend you to not use this remedy for cat urine stains because cat urine contains ammonia. Using an ammonia solution over the cat stain will only worsen the stain instead of cleaning it.
Pet Stain Removal Products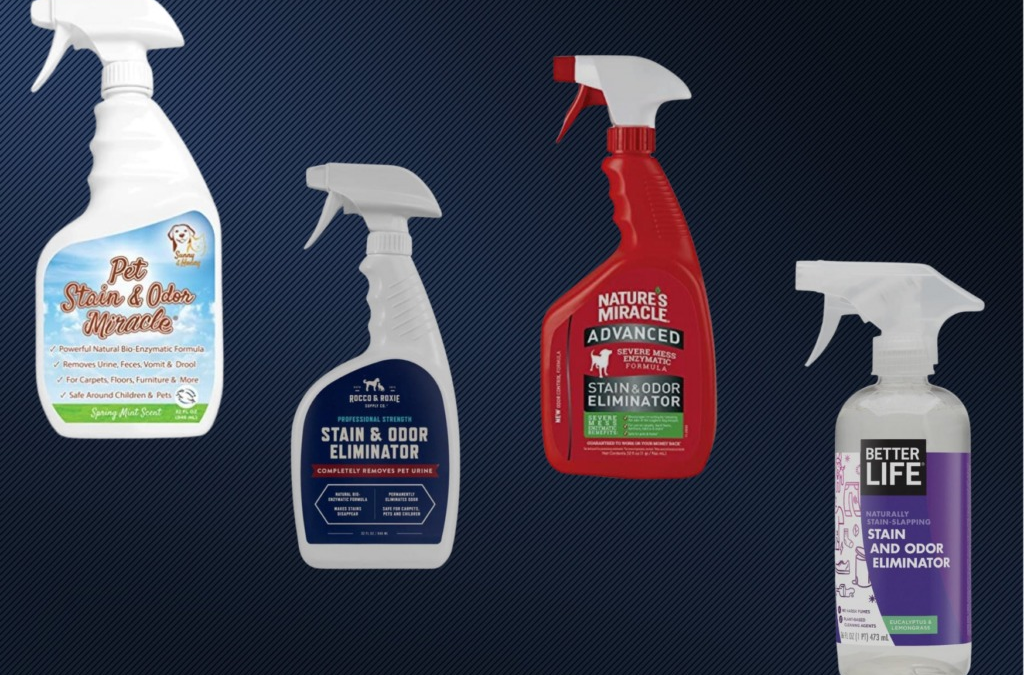 Homemade solutions work well to get rid of pet urine stains and odors. However, they are a bit slow. If you want instant results, we recommend you get pet stain removal products from your nearby store or online. Store-bought products are quick in removing stains from your carpet and they also deodorize the stained area. This prevents your cat or doggo from re-soiling your favorite plush carpet.
Shiny Cleaners has mentioned some pet stain removal products in our 7 Best Carpet Cleaning Products for Your Carpet blog. We will be sharing more products with you here so you can make the best choice for yourself.
Pet Stain & Odor Miracle
Why Should You Buy it?
Easy to use
Quick stain cleanup
No more odor
Enzymes destroy urine particles on your carpet
Non-toxic
Scented
Specifications
For carpet and upholstery pet stain removal
Mint and Lavender scents
White-colored formula
Spray
Comes in 32 FL OZ and 1 Gallon
Get Pet Stain & Odor Miracle from Amazon now.
Rocco & Roxie Supply Co. Professional Strength Pet Stain & Odor Eliminator
Why Should You Buy it?
Instantly eliminates odor
No more stain
Powerful enzyme action
No carpet discoloration
Scented
Specifications
For all surface types
Chlorine-free formula
Spray
945 ml
Get Rocco & Roxie Supply Co. Professional Strength Pet Stain & Odor Eliminator from Amazon now.
Nature's Miracle Advanced Stain & Odor Remover Just for Dogs, Pet Stain Eliminator
Why Should You Buy it?
Instantly removes strong dog urine stains
Powerful enzymes
Gets rid odor
Light scent
Well trusted
Specifications
Only for dog stains
Scented
Spray
946 ml
Get Nature's Miracle Advanced Stain & Odor Remover Just for Dogs, Pet Stain Eliminator from Amazon now.
Better Life Stain and Odor Eliminator
Why Should I Buy it?
Removes unwanted stains
Neutralizes odor
Non-toxic
No carpet discoloration
Safe for pets and children
Scented
Specifications
Carpet and upholstery stain removal
Lemongrass and eucalyptus scent
Spray
16 ounces
Get Better Life Stain and Odor Eliminator from Amazon now.
How Can You Avoid Pet Accidents at Home?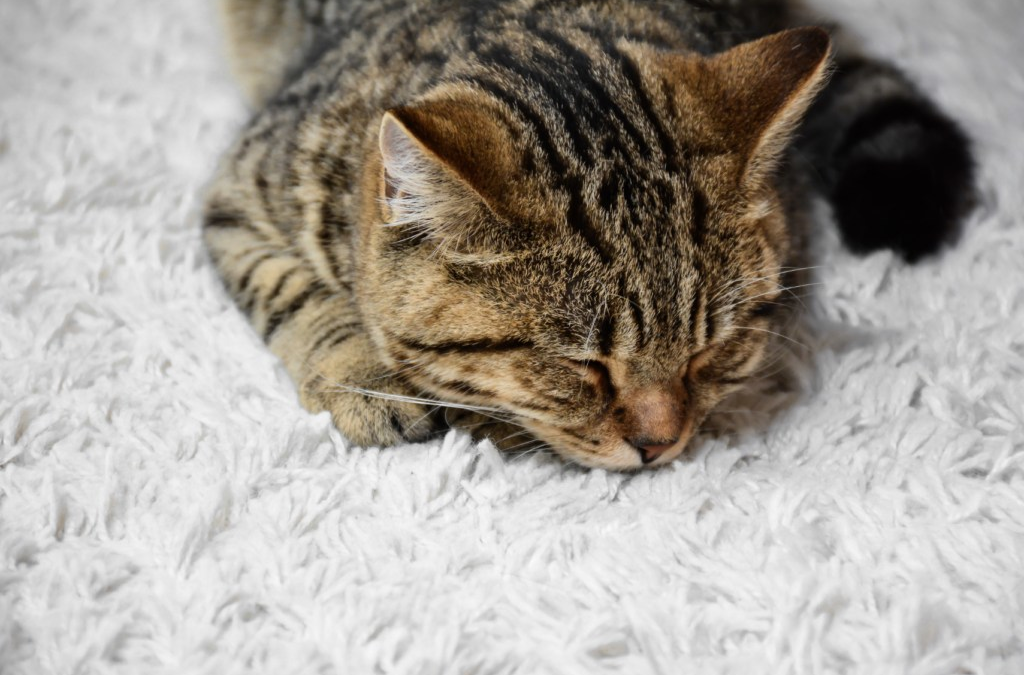 Prevention is better than cure, right? Pet accidents can occur even if your pets are young and medically fit. The key is to look after your pets well and keep an eye on them. Pet urine stains and odor can be avoided if you look after the cleaning of your house. Maintaining preventative measures and taking care your pets' hygiene can save you from all the hassle of pet stain cleaning. Carpet cleaners at Shiny Cleaners have some amazing and easy expert suggestions for you. You can follow those so that you can avoid any disturbance at home due to pet stains and odors.
Vacuum Your Carpets and Upholstery Regularly
We always tell you to vacuum your carpets regularly so that you can get rid of dust and molds from the surface of your carpet. Regular vacuuming can prevent your carpets from stubborn stains and odors. Also, vacuuming will get rid of any pet accidents and prevent pet urine stains from forming. Your cat or doggo gets attracted to the pet-stained area of your carpet, and there are chances of pet accidents in the same area. However, when your carpet is free from all sorts of stains and odors, your pet will go outside to pee rather than soiling your lovely carpet.
Wash Your Pets
When your pets play outside your house there is a chance they get mud and dust all over them. They bring that mud and dust with them inside your house. Because of this, pets can stain your upholstery and carpets. Would you like your carpets and upholstery to have brown patches of mud all over them? No, right?
So, to save your carpets and sofas from stubborn stains like these, wash your pets properly. There are many shampoos available in the market that you can get for your pet, such as John Paul Pet Lavender Mint Shampoo. Such shampoos not only get rid of mud and termites from your pets but also get rid of any urine on them that could have stained your carpet.
Proper House-Training
As we discussed earlier, proper house training of pets is very important to avoid pet urine stains on your carpets. We understand that house training of your cat or doggo may take a lot of time and patience. However, once your pet is trained, you will no longer have to deal with pet accidents daily. Also, if you feel your pet is taking a lot of time to get trained, we suggest you hire a veterinary behaviorist to help you in house-training of your little friend.
Good Ventilation
Another reason for pet stain odor to easily roam around your house is the lack of proper ventilation. Closed windows and doors do not let the air properly flow across the rooms inside your house. We suggest you open the windows of your rooms and let the airflow inside your house so that no odor finds a chance to ruin the freshness of the air. Cross ventilation will not only remove the odor in your house but will also make the air in your house fresh to breathe in.
Frequently Asked Questions
Can Professional Carpet Cleaners Remove Pet Stains from Carpets?
Yes. Professional carpet cleaners have the right stain removers and equipment to get rid of pet stains from your carpet.
What Absorbs Pet Urine from Carpets?
Paper towel. Use a plain, clean paper towel to blot out as much pet urine as possible.
What Neutralizes Pet Urine?
Use cleaners that have enzymes in them. They help to neutralize pet urine and get rid of odors.