Carpets are one of the most sizeable investments you make into the décor of a room so their care should be taken regularly. Carpet cleaning mistakes are however quite common as most owners often end up taking certain steps that end up having a negative impact upon the condition of the carpet.
Poor maintenance of carpets can lead to the discoloration, development of molds and other health hazards as well as providing a dirty look to the room. Hence it is important to regularly clean carpets but also make sure that you are not making the common carpet cleaning mistakes that could ruin a carpet. Often, it is better to consult a carpet cleaning professional in this regard for the best possible solution and maintenance measures to undertake.
Shiny Carpet Cleaners is an established brand in the carpet cleaning business and we have compiled 5 common carpet cleaning mistakes that people often make so you can avoid making them as well. If you are located in the GTA region (Mississauga, Toronto, Oakville or Milton), you can reach out to Shiny Carpet Cleaners at 289-236-0898 or email us at info@shinycleaners.ca for professional carpet cleaning services and eco-friendly solutions for carpet care.
Common Carpet Cleaning Mistakes to Avoid
1) Scrubbing for Stain Removal
Carpet stains are very common and especially in households with children or pets, spills may cause permanent carpet stains to develop. These stains may be caused due to various reasons such as drink spills, pet urine and dirt from shoes etc. For these sort of commonplace yet persistent stains, most people simply end up using scrubbing to remove the stains.
However, scrubbing the stains powerfully will not only serve to damage the fibers of the carpet thus ridding the carpet of its smooth touch but also causing the carpet to fray. Fraying typically occurs when the carpet fibers become worn, often at the edges which is due to constant scrubbing. This will directly result in the reduction in the lifespan of your carpet while also damaging its appearance.
The proper method of removing solid stains (e.g. food stains, dirt) is by gently scraping it off while for the case of liquid stains, it is best to blot the stain by using a clean cloth. These techniques are better at preserving the life of your carpet as well as its appearance when compared to scrubbing which is one of the most common carpet cleaning mistakes.
2) Trying Different DIY Cleaning Methods
Carpet cleaning is not an easy task. Loads of carpet cleaning mistakes happen because homeowners decide to take things into their hands and perform "DIY" carpet cleaning i.e. do it yourself carpet cleaning by using either traditional or non-traditional means. There is always the risk of making a slight mistake which in the scheme of things, may result in the spoiling of your precious carpet.
Lack of experience and experimenting with unreliable methods can lead to undesirable results. However, for important and sensitive decorations like carpets, it is best to let professionals handle carpet cleaning due to having proper experience and equipment in this regard. Professionals are well advised in different carpet cleaning mistakes and are able to perform maintenance effectively and efficiently. Other common carpet cleaning mistakes can also be learned about more as well.
3) Getting the Carpet Too Wet
This is another common carpet cleaning mistake that carpet owners often make. Cleaning things with water is a typical human reflex and as soon as some food drops onto the carpet, the immediate response is to add water onto the stain or spot. Often times, too much water will be poured resulting in the carpet getting too wet due to the water seeping deep into the fibers of the carpet.
If your carpet gets too wet, then your carpet's long term future will be at risk due to the excess water ruining the carpet fibers and causing the carpet to loose color as well as smoothness. In certain situations, depending upon the type and material of carpet, the water may leave residual stains upon the surface of the carpet which may be difficult to remove. To avoid one of the most repeated carpet cleaning mistakes, it is advised to either sprinkle small amounts of water on the spot and follow it up by blotting it using a tissue paper.
4) Not Vacuuming Regularly
When most people buy a carpet, they make one of the most common carpet cleaning mistakes,, namely not vacuuming the carpet regularly. Vacuuming is very important for your carpet as it helps remove the dust and dirt trapped onto the surface of the carpet. You can read about some vacuuming tips to steer clear from common carpet cleaning mistakes that most people make. It has been estimated that not vacuuming regularly can solely lead to the life of a carpet decreasing by 3 to 4 years due to the accumulation of dust which gets embedded deep into the fibers of the carpet thus giving it a dirty and disheveled look.
Vacuum cleaners are not only effective with respect to carpet cleaning but are also quite useful in the maintenance of sensitive household objects. Regular vacuuming i.e. once every 1-2 weeks will not only result in a longer lifespan for your carpet but also a cleaner look and will prolong the need to call professional carpet cleaners for maintenance of your carpet.
5) Not Cleaning Spills Immediately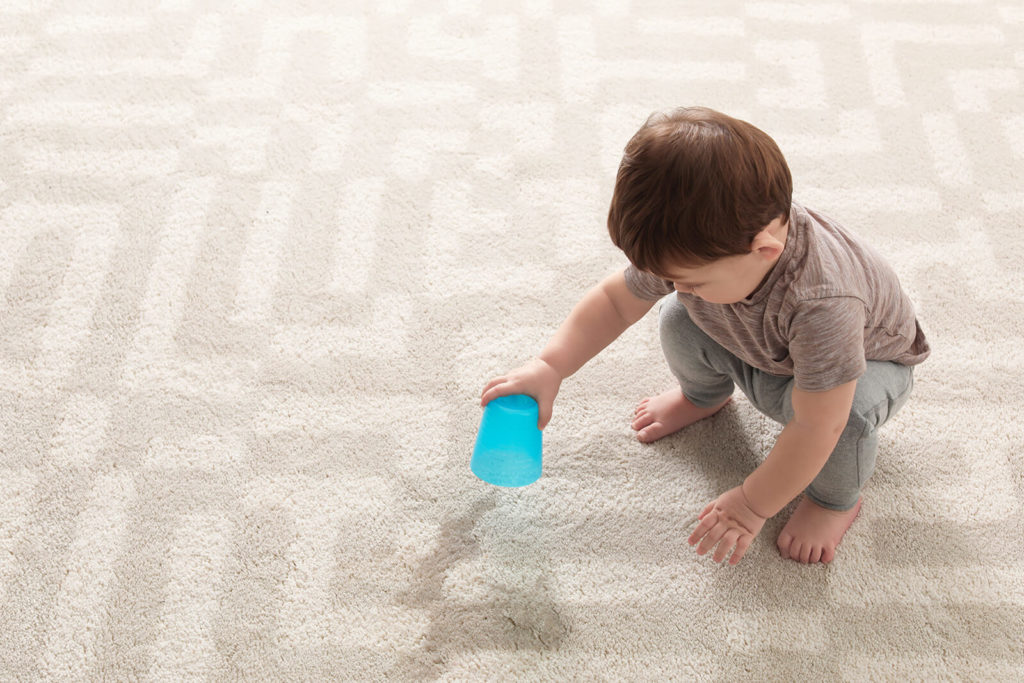 Carpet spills are a common occurrence in any household. However, most owners make the mistake of taking too long to clean the carpet spill often resulting in that small spill becoming a permanent stain on the carpet surface. As this is another one of the most common carpet cleaning mistakes to avoid, we strongly advise you to clean up that stain quickly before it gets deep into the carpet fibers if its a liquid stain or leaves a mark if its caused due to a solid.
You can learn more about cleaning different carpet stains as well.
6) Over Shampooing The Carpet
When undergoing carpet cleaning, often carpet owners make the mistake of adding too much shampoo solution to the carpet when cleaning it. As one of the maintenance tips to prolong carpet life, we recommend either adding a balanced amount of shampoo to clean the carpet followed by thoroughly rinsing and drying of the carpet or that you consider hiring a professional to thoroughly clean the carpet.
Not hiring a professional is another one of frequent carpet cleaning mistakes due to the cost of carpet cleaning but professional carpet cleaners know which different type of carpet needs which type of cleaning as well as knowing how to deep clean your carpets. Due to hiring professional carpet cleaners, the lifespan of the carpet is increased as well as its general appearance. As mentioned, over shampooing the carpet is one of many carpet cleaning mistakes that can happen when people decide to take matters into their own hands.
FAQ's
How Often Should You Shampoo Your Carpet?
For keeping the appearance of the carpet as fresh as possible, shampooing the carpet is one of the better options. You should shampoo your carpets once every 12-18 months professionally, as according to this article. This helps keep the carpet smell and look appealing, albeit it should be noted that this shampooing is best done by hiring professional carpet cleaners.
What Should You Not Put On Carpet?
Some of the carpet cleaning mistakes owners often make is the addition of certain substances and products on the carpet in an attempt to clean the carpet. Many times, these products often end up doing more harm than good. Such substances include bleach, laundry detergents, dish soap and abrasive cleaner. Once again, it is recommended to seek a professional for thorough carpet cleaning.
What Is Safe To Use On Carpet?
However, it is not like we are wholly recommending you to keep away from DIY cleaning as there are certain situations where cleaning the carpet by yourself is fine. In these situations, it is best to use natural substances like vinegar, baking soda, water solutions to clean the surface of the carpets and avoid any carpet cleaning mistakes.
This article about cleaning carpets safely is also worth a read.