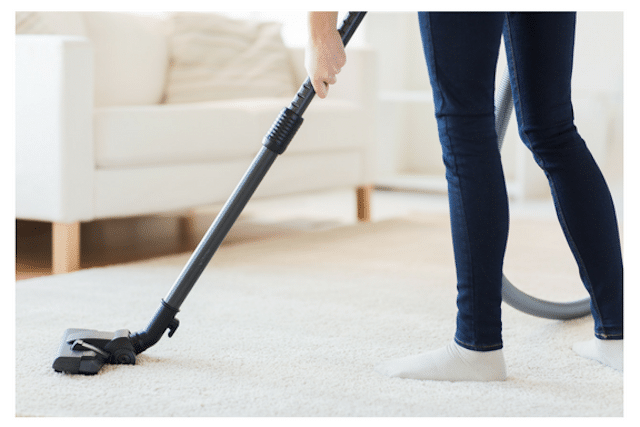 New carpet cleaning methods and ideas are important aspects of carpet maintenance and care. Carpets are a big investment for your house as they are expensive while enhancing the beauty and comfort of the room. If we want the room to be clean, then we should also clean our carpet.
Carpets are susceptible to dirt and stains unless you don't protect them. Carpets also help in keeping the floor clean and you should clean them as well so that they don't provide a bad and dirty look of the room. Dirty carpets also affect their surroundings as well as the people. Following are some new carpet cleaning ways you can keep your carpet clean. That is why we have updated this blog to account for new carpet cleaning ideas and solutions which you can also use at home by yourself.
However, if you feel like you are in the need of professional carpet drying services and if you are located in the GTA region (Mississauga, Toronto, Oakville or Milton), you can reach out to Shiny Cleaners at 289-236-0898 or email us at info@shinycleaners.ca for professional carpet cleaning services and solutions regarding carpet drying.
New Carpet Cleaning Tips and Methods
Dirty carpets can not only cause allergies to dust-allergic people but also various health and hygiene issues to everyone in closed proximity to the carpets. It also affects the atmosphere and its surroundings thus carpets should be often kept neat and clean so that it is also welcoming to any visitor and it also gives anyone a warm and comfortable feeling . You can also read more about carpet cleaning tricks as well.
There are various conventional carpet cleaning ways and solutions which have been tried and tested. However, you can also use some new carpet cleaning methods which can be very effective. The following are some tips and solutions in this regards:
Placement of Front Doormat and No Shoes
This is one of the more obvious new carpet cleaning tips and ideas but also quite an effective way to keep the carpets clean and safe from undesirable substances such as dirt, dust and mold which can lead to stains and long term health issues.
A doormat can help as when any anyone arrives to your house, they can easily wipe their shoes and scrape the dust or mud off the shoes so that there are no dirty or muddy stains. If you don't have one, keeping a no shoes policy in your house will not only increase the long term life of your carpet but also act as a necessary hygiene and cleanliness filter.
Usage of Baking Soda
The usage of baking soda is one of the more popular new carpet cleaning tips as it serves a number of multipurpose functions and uses. Baking soda can be used for the treatment of oil stains by its application on the stain in question and leave it until the oil has been absorbed by the baking soda which can then be vacuumed later. Baking soda can also be used to remove the smell and stains caused due to pet urine stains leaving baking soda as a very useful and interesting new carpet cleaning method.
Professional Carpet Cleaning Once Every Year
Professional carpet is the most effective carpet cleaning method and it is required to maintain your carpet's look and feel. Even if your DIY methods do not work, you can always rely on this for the best possible results. You can also read about the benefits of professional carpet cleaning as compared to conventional/new carpet cleaning methods.
Ice Cubes Usage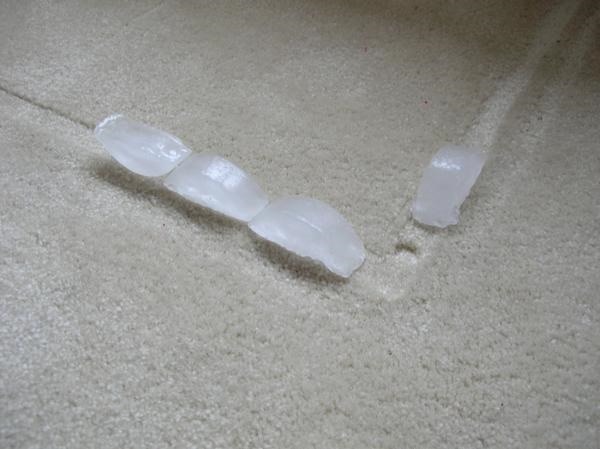 You must be wondering that how on Earth do ice cubes clean your carpet when they would rather melt and cause a water stain on the surface? Well in reality, ice cubes can be used to treat chewing gums being stuck on your carpet by the placement of the ice cube for 30 seconds over the chewing gum leaving it easier to be scraped off the surface of your carpet in ease.
With the passage of time, your carpet may also lose the fluffiness it used to have. Ice cubes can be placed on the surface 'dents' or impressions where the fluff has died out and left to melt. The area can then be blotted to remove excess water and ironed and dried. Once dried, the fibers will be easily fluff-able by hand. Hence the acknowledgment of ice cubes usage is justified as a new carpet cleaning tip.
Blotting, Not Rubbing
New carpet cleaning ideas often work against the ideas we have kept in our mind about carpet maintenance. In this instance, it is advised that if any stain befalls your carpet, whether it is dirt or something else, blotting the spot with a cloth will remove the stain while rubbing will only serve to embed the stain into the surface fibers.
Regular Cleaning of Air Filters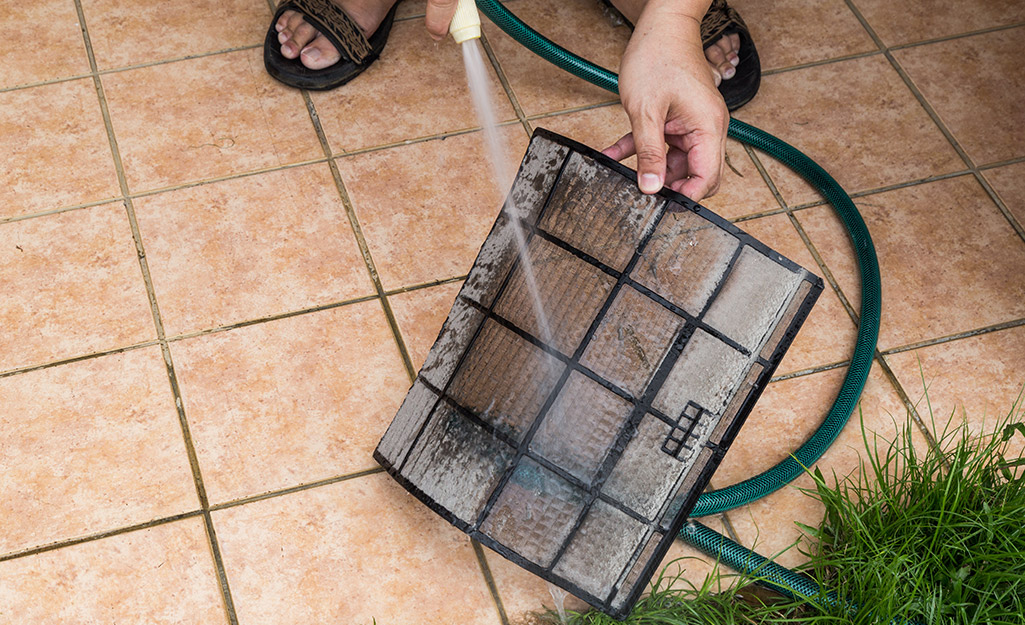 If there is an air conditioner in the room you should also clean its air filters so that minimum dust particles can fall on your carpet which will make it dirty and it will also stain the walls and other furniture. Dirty air filters will also cause to make your air conditioning system to use more energy to cool or heat the room. You can either manually clean those air filters or service your air-conditioners regularly.
Application of Shaving Cream
Application of shaving cream is an affordable yet proper new carpet cleaning method to help clean and freshen carpets. You should spray the foam shaving cream on the stain and let it sit for 30 minutes and then blot it with a clean cloth for effective results.
How to practice Steam Cleaning
Steam Cleaning is also a very efficient method in cleaning carpets. Following are the steps that detail how steam cleaning can clean carpets. Dust particles and other things can settle deep into the carpet which other methods can't clean:
Remove all furniture near the carpet
Apply some cleaning solution on the carpet which will cause the fibers to loosen up and break up the dirt.
After settling of carpet solution fibers are rinsed with hot water and it extracts the water and soap residue. Extraction removes the stains.
Use a drying machine such as fans or dehumidifier which will dry the carpet.
Removing stains with an iron: This is a very new cleaning carpet method which will require some extra items but also rather efficient:
Firstly, vacuum the stained area and get rid of the hard stains
Mix the spots with a mixture of water and vinegar. Wait for 5 minutes
Place a towel on top of the stain and apply a heated iron.
FAQ's
How to deep clean a carpet?
Deep carpet cleaning as considered as one of the proper ways to clean your carpet. You can perform it by preparing a carpet cleaning solution for which mixing 3 parts of cold water and distilled white vinegar in a bottle with a spray end is considered as one of the best. Apply this solution, wait 5 minutes for absorption and blot with a microfiber cloth and dry it using air ventilation.
What is the important step in keeping a carpet clean?
Despite various mentioned new carpet cleaning methods and conventional carpet cleaning tips, vacuuming remains the best and foremost effective solution to cleaning a carpet and ridding it off dirt, dust and other undesirable substances.
How can I get the carpet like new again?
A number of steps and methods can be used among which some are deep cleaning, vacuuming, removal of carpet depressions and musty smell and removal of surface stains will not only make your carpet look new but also improve its total life.