C
Carpets not only give a room a nice, warm and comfortable feeling but they also improve the look and aesthetic of the room. Carpet drying, however is an important aspect in owning a carpet. A wet carpet i.e. one which can be caused by the spilling of a liquid whether it can be water, pet urine, milk, oil etc. You should act quickly because it can cause permanent damage to your carpet as the liquid may be sticky or the mess is large which may cause a foul odor to develop.
A wet carpet will not only damage itself but also the surrounding around it such as walls or sofas etc. and carpet drying may become far more difficult then. If you want, you can dry the carpet by yourself but you can also contact professionals in such carpet drying procedures. Shiny Carpet Cleaners is an established brand in the carpet cleaning business and we have gathered information on 4 carpet drying tips you need to know with regards to DIY carpet drying (do-it-yourself).
However, if you feel like you are in the need of professional carpet drying services and if you are located in the GTA region (Mississauga, Toronto, Oakville or Milton), you can reach out to Shiny Carpet Cleaners at 289-236-0898 or email us at info@shinycleaners.ca for professional carpet cleaning services and solutions regarding carpet drying.
DIY Carpet Drying Ways
Importance of keeping your carpet dry: So why should your carpet be dry? Well, carpets are there to give a warm and comfortable feeling while also making your room look better. The material of your carpet can be damaged. Wet carpet can also leave a foul odor which will also as a result ruin the odor of the room and will also ruin the look. It will also damage its surroundings and it will also give an unwelcoming feeling to any visitor who will visit the house.
There are some ways that you can dry your carpet by yourself:
You can read more about the drying of carpets as well as some steps and tools involved.
How to Dry Damp Carpet
A carpet which isn't too much wet can be dried by using fans and dehumidifier and they both can do the job easily. If the spill is not too much there is not such a big need to check the padding underneath the carpet (which is needed for proper carpet drying in the case of a truly wet carpet) and remove or dry it. A damp carpet is the one in which there is not such a big mess such as spilling a little milk or any other liquid. Towels or a couple of rags can also do the job of carpet drying when you spread them around on the spill.
The following are some damp carpet drying steps to get water out of the carpet by removing excessive moisture.
Fans and Dehumidifier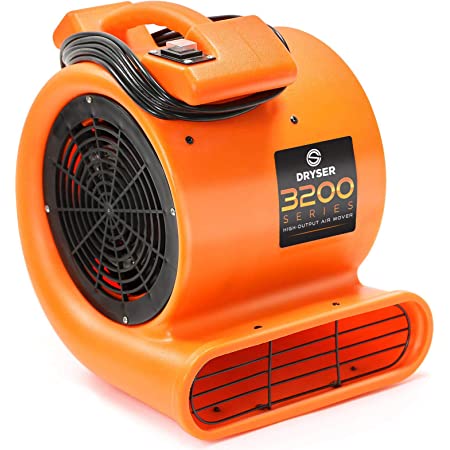 These two electrical appliances can do a very good job of carpet drying quickly.
Dehumidifier pulls the moisture out of the air and quickly dries the carpet.
The fan will circulate the air and will also do the job quickly.
 If the spill is not too much you can also use a hairdryer.
Using Towels
Few towels will be required
Towel should be pressed hard against the damp area. You can also jump or walk on it so that the water should be completely absorbed.
Keep practicing this process until a damp towel isn't found
How to Dry Fully Wet Carpet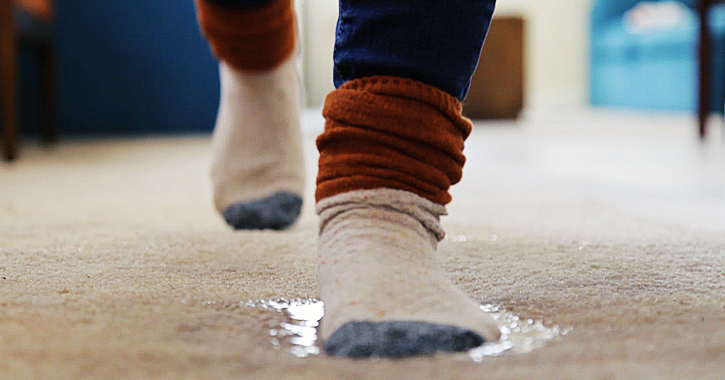 A fully wet carpet can be caused by big spills such as a water pipe leak or any other flooding of clean water which can be reverted by carrying out carpet drying processes such as steam cleaning or vacuum cleaning. Steam cleaning or using vacuums (dry-wet vacuum) can dry a fully wet carpet. When drying a fully wet carpet it is necessary to dry the carpet padding to avoid water damage to your carpet and floor. You should act very quickly when the spill is made and after drying the carpet which may take 12-24 hours and then dry the padding.
Steam Cleaning
Steam Cleaning is the most effective and efficient way to dry and clean a carpet, especially when it is used with hot water extraction.
Removing Items: Every item which is placed on the floor should be removed to another room if possible.
Dust Surfaces: Dust the surfaces thoroughly and even areas like celling fans, picture frames and window sills etc.
Vacuum Cleaning: Vacuum the surfaces very thoroughly and remove all thin and little items such as threads and hair etc.
Using Pretreat: Spray on the stains and after a while you can use the steam cleaner.
Fill tanks of steam cleaner: Fill the tanks with hot water and detergent.
Vacuum Cleaning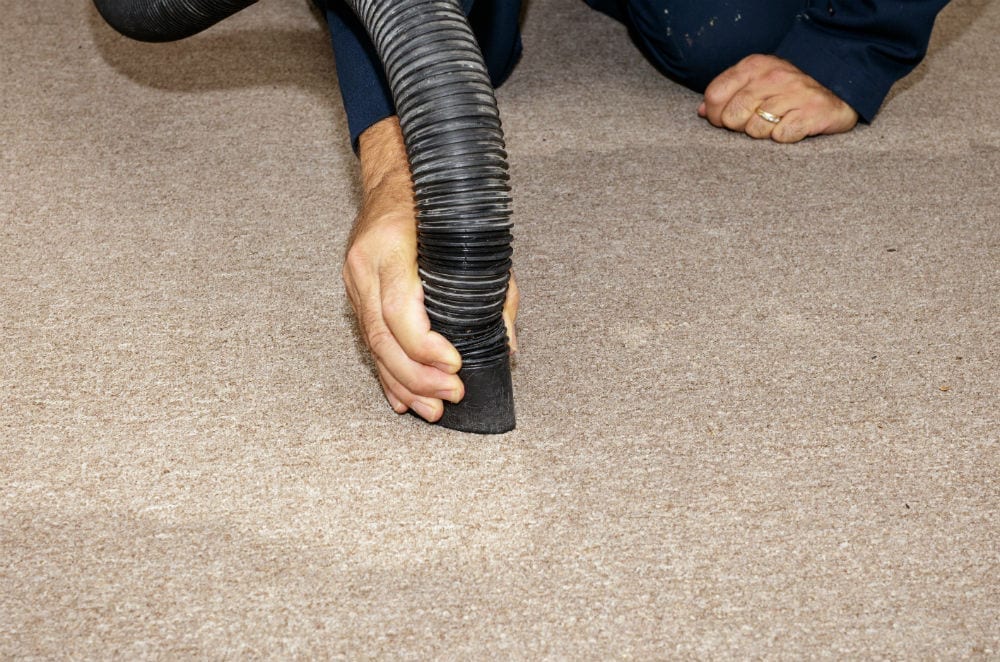 The type of vacuum needed for this job is a dry-wet vacuum because a normal vacuum cannot be used for liquids and the following are the steps to do when using a vacuum cleaner. However, if the level of water over the carpet is a couple of inches or more, then its advisable to use a pump to extract the water. If the water level is less than an inch over the carpet, then its best to use a dry-wet vacuum.
The vacuum attachment should be tested to see which will work better.
Usually, the lower attachment works better because it can fully extract water and moisture from carpet.
A filter is also required. (Sponge type is good but paper filter isn't).
Gently move the vacuum pipe across the surface of the carpet to suck as much water as possible. For effective carpet drying, this may require a few times to remove all the water.
Miscellaneous DIY Tips
Drying the Carpet Padding
Carpet padding is the underlay surface of the carpet and it is necessary as it lays the foundation of the carpet. The padding is made of many materials and it should be hard so that it can stop any liquid and not let it damage the floor. The padding should also be completely dried so it doesn't damage anything. After drying your carpet you should also dry your padding quickly. When carpet is fully wet be sure to check and remove the padding after drying the carpet.
Remove the Foul Odor
You can remove the smell of dampness by drying the carpet with baking soda sprinkled on the surface. This is an effective solution to remove the smell which is caused by the accumulation of water and dampness over a carpet surface.
Ventilate the Room
Its advisable to quickly ventilate the room in case of a fully wet carpet for air circulation by opening the room windows. During humid conditions, moisture cant be absorbed by air easily thus the time for drying will take longer as well.
Frequently Asked Questions
How long does the carpet take to dry?
The time taken for carpet drying can vary anytime between 12 hours to 48 hours which is dependent upon how quickly and effectively you take action regarding the drying of your carpet. Usage of proper drying equipment, lifting the carpet up and care may result in the carpet being dried effectively in a day as well.
How to dry a carpet that is suffering from water damage?
You can save your carpet suffering from water damage by either following the instructions and steps mentioned in this article or by also hiring professional carpet drying services for effective results. You can also read about ways to save your carpet suffering from water damage as well.
Why is my carpet not drying?
Your carpet may not be drying due to the presence of excessive moisture in the atmosphere or because you might have used an excessive amount of water in the cleaning process. You can use fans and heat to remove excessive moisture thus reducing the time for your carpet to dry.