To clean something properly without any mistake is always a matter of mental and physical challenge for homeowners. Isn't it? And carpet cleaning is not a matter of child's play. But hey, do not get intimidated because it is not like we are trying to threaten you about something. We are only trying to make you understand that you can easily make carpet cleaning mistakes, and mostly some mistakes are made unknowingly. For this reason, we want you to be aware of these carpet cleaning mistakes because a small mistake can lead to a bigger problem. Due to one mistake, you can permanently damage your carpet and may need to get a new one, which may prove to be costly.
Many people regularly clean their carpets to maintain them in their original condition and for this, they try to hire the best carpet cleaners in their area. However, some people try cleaning their carpets themselves using different carpet cleaning methods. But this causes them to make carpet cleaning mistakes because they are not aware of the right ways to clean their carpet and these mistakes decrease the life of your carpet.
However, our expert carpet cleaners at Shiny Carpet Cleaners have prepared a list of some of the carpet cleaning mistakes here so that by taking them into account, you can save your carpets from ruining and extend their life. Also, if you are someone living in Mississauga, Milton, Oakville, or GTA and need affordable carpet cleaning services, contact our cleaners at 289-236-0898 or write to us at info@shinycleaners.ca and get in touch with us.
Carpet Cleaning Mistakes that Can Ruin Your Carpet
Not Vacuuming Carpet Regularly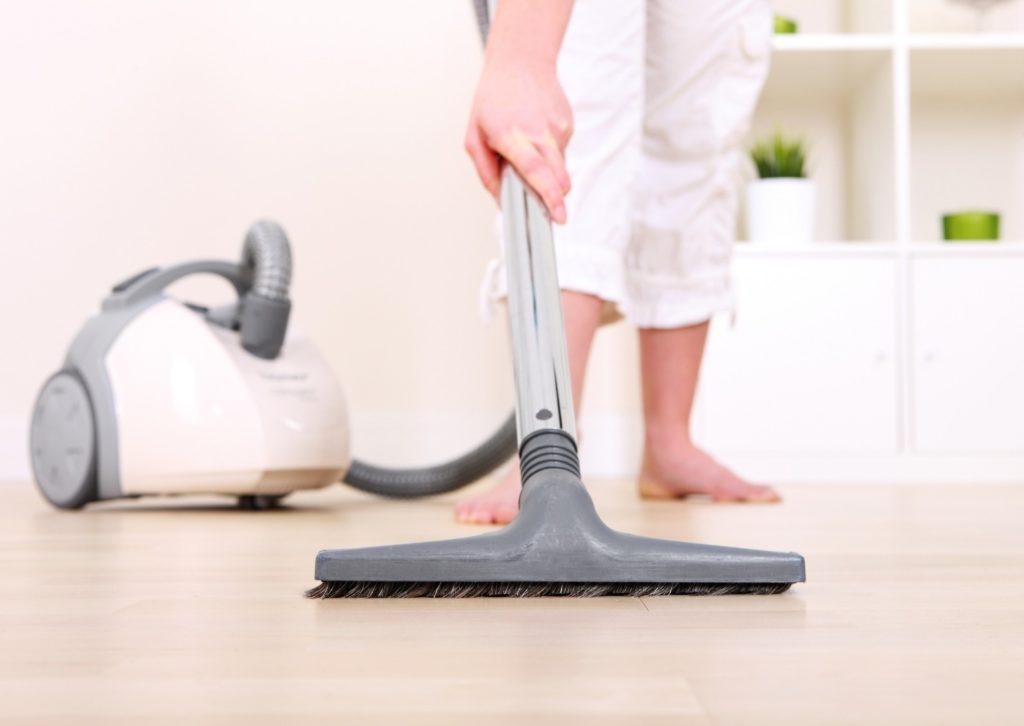 Carpets are one of the largest investments you ever made to add beauty to your lovely house. This is why you try to take extra care of your carpet as much as you can so that it remains in the condition you brought them to your home. When you take good care of the carpets, ultimately, their lifespan increases and they can last for about as much as 5 to 15 years. Wow, that's amazing, isn't it?
And the best way to maintain the original look of your carpet is to vacuum it regularly, however, your carpet may not be able to survive more than 3 to 4 years if you do not vacuum it regularly. This is a carpet cleaning mistake that many people make. A dirty carpet does not survive long because it leads to the accumulation of dirt in it. Also, dirty carpets not only look ugly but are also a source of many health problems and discoloration of the carpet as well. For this reason, we want you to vacuum your carpets regularly so that they maintain their beauty and last longer.
Delay in Carpet Cleaning Services
When a liquid accidentally falls on your carpet, it forms a stain and if you fail to instantly get rid of the stain, it gets stubborn, which can be very difficult to get rid of. However, there are cases when you think that the stain will 'disappear' by itself, for example, by people walking over the stained carpet. No doubt, the stain will not be visible there but that area of your carpet will have a different look from the rest of the carpet.
Similarly, if you wait for the liquid spilled on the carpet to dry automatically, it will surely be dried but will leave the smell on the carpet. Wet carpets not only give smell but also lead to mold growth. Molds not only lead to carpet odor but also are hazardous to health. For this reason, we recommend you not to wait for the 'automatic' stain removal from your carpet and instead get your carpet cleaned as soon as possible to avoid permanent damage to your carpet. Contact a professional carpet cleaner around you to help you fix this carpet cleaning mistake.
Using Wrong Cleaning Products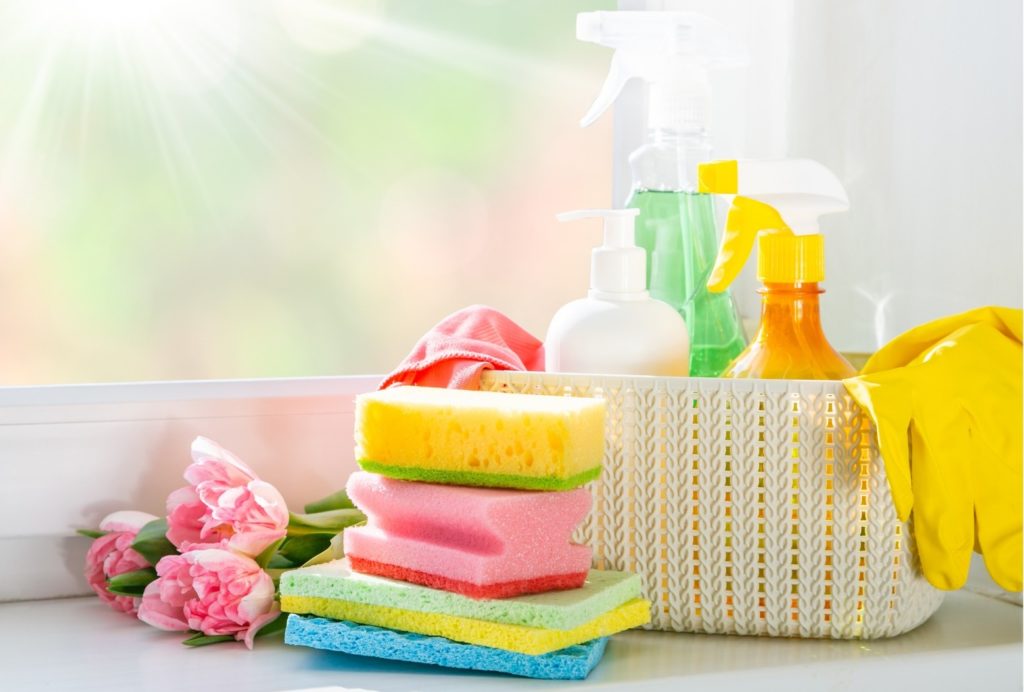 Using the wrong cleaning products is another carpet cleaning mistake that can damage your lovely plush carpet. It is not like you can use anything to clean your carpet because carpet cleaning is closely related to the quality of your carpets. This means that carpet fibers are made of a range of materials and every material needs to be handled in a specific way. For this, you can get help from your carpet manufacturers. Carpet manufacturers can easily guide you on what product to use for which carpet. You can contact them either directly on the phone or online through their website. 
Excessive Use of Chemicals in Cleaning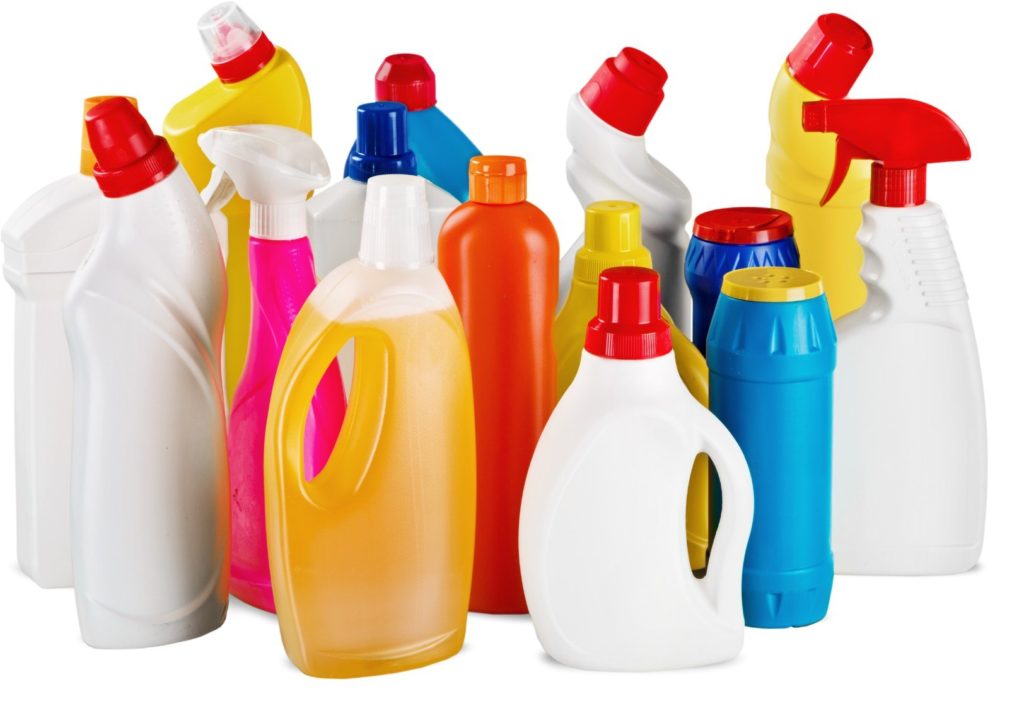 Sometimes carpet cleaners tend to use a lot of chemicals to clean the carpet. If the stain is not removed by using different carpet cleaning methods, the cleaners will prefer to remove the stains by using cleaning products with strong, effective chemicals. While it is fine to get your carpets clean through these chemicals but whenever your carpet is damaged and your cleaner adopts the same strategy then it is definite that it will cause harm to your carpets.
This can prove to be a carpet cleaning mistake because an excess of a thing is bad. Some chemicals leave behind a residue in your carpet that attracts dirt and your carpet, in turn, becomes dirty. For this reason, we suggest minimal use of chemicals on carpets, and instead, go for homemade cleaning products. These cleaners are not only effective in stain removal but are also carpet friendly.
Scrubbing Carpet Hardly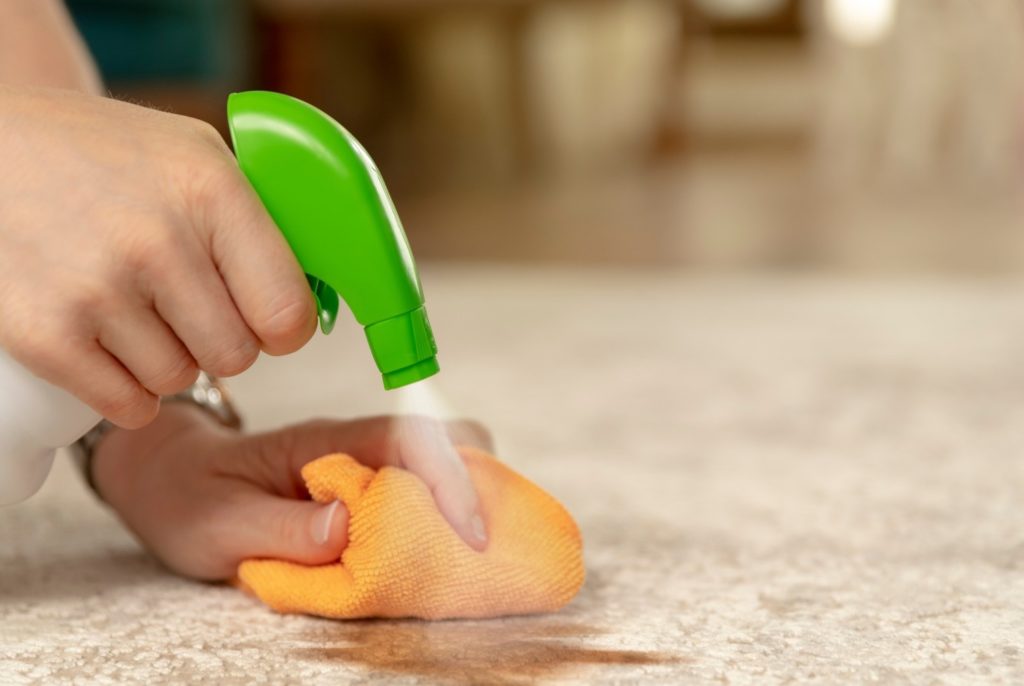 Scrubbing carpets hardly is one of the most common carpet cleaning mistakes that is made when people clean their carpets. When your carpet is stained, the first solution that comes to your mind and that you are going to use is to remove the stain from the carpet by rubbing it with a piece of cloth. Stain removal is something you need to deal with intelligently. The stain may become light by rubbing but it is not going to be removed completely. Instead, the stain will go deep down to your carpet's fiber.
Carpet fibers are very thin and by scrubbing, the fibers are damaged and can't come back to their original condition. When you rub hard, the stain molecules are pushed deep down the carpet fibers and cause them to fall apart. In other words, scrubbing can cause permanent damage to your carpet. So, avoid this mistake. Instead, blot out the stain by dabbing a clean cloth over it.
Not Using Area Rugs
Area rugs or runners are quite often used in places where carpets have a lot of traffic. The portion of the carpet which is more in use can be covered with a runner. In this way, the carpet can be prevented from discoloration. Runners also add to the beauty of your carpet and can prevent it from dirt. Area rugs are used so that the most used part of the carpet may not look different from the rest of the carpet. Area rugs tend to prevent your carpet from uneven wear and tear.
If a specific part of a carpet is worn, you have to bear the cost of replacing the whole carpet. However, if you use an area rug then only that rug is needed to be replaced instead of removing or replacing the whole carpet. So not using runners is a carpet cleaning mistake that you should always avoid. Because it is economical to replace the rug instead of replacing the whole carpet as a solution to the damaged area.
Not Hiring a Professional Carpet Cleaner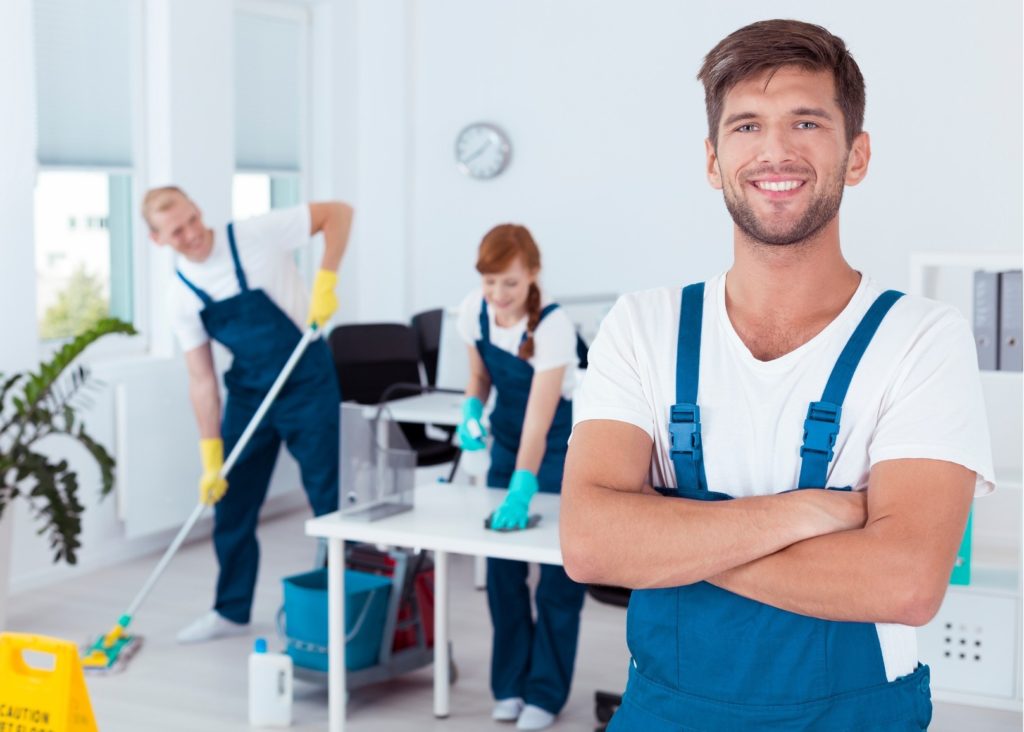 Hiring a professional carpet cleaner is the best way to get your carpets cleaned. Professional carpet cleaners use products that can deeply clean your carpets. They know very well which method of carpet cleaning is to be employed to clean your carpet. In this way, you can make full use of your carpet due to its longer life. With the help of professional carpet cleaners, your carpets look brand new and their lifespan also increases. Get your carpets professionally cleaned at least twice a year in addition to regular vacuuming.
However, not hiring a professional carpet cleaner and experimenting on your carpet yourself is a carpet cleaning mistake that you should avoid. Professional carpet cleaning help will not only prevent your carpet from lifelong damage but will also clean it properly.
Frequently Asked Questions
How to Fix Carpet Wicking?
When a carpet is wet due to the liquid spilled on it, dry it immediately to avoid wicking. Leaving the spill to be dry on its own will lead it to go down to carpet padding and then to the subfloor of the carpeting area which is wicking. One can fix wicking by using a set of four to six towels and putting weight on the stack like a book or a brick. The wicking will go up to the stack and the carpet can be made safe from wicking.
Does Baking Soda Ruin Your Carpet?
No, baking soda will not ruin your carpets. Baking soda is one of the most effective ways of removing stains from carpets because it is completely safe and non-toxic. For this reason, you can easily use baking soda to get rid of stains on your carpet.
Should Carpet be Rinsed After Cleaning?
According to the research, the carpet should be rinsed after cleaning. The chemicals in the products used for carpet cleaning are left behind in the carpet fibers. They attract dirt and make your carpet dirty much faster than normal. To remove them, rinsing plays an important role and can save your carpet fibers from being ruined.