Fabric sofas look quite classy as they enhance the overall beauty of your living room. Not only this, but these sofas are extra durable and comfortable than any other type of sofa out there. However, would you like to keep your fabric sofa in the living room if it has stain patches and a very bad odor?
No, right? But hold on. Don't just throw your sofa right away. We have some amazing, simple and easy tips to clean a fabric sofa, just for you. Carpet cleaning experts at Shiny Cleaners have been cleaning carpets for the lovely citizens of Mississauga, Milton, Oakville, and Toronto. With years of experience in the cleaning industry, our shiny cleaners have designed some very useful cleaning tips for your lovely fabric sofa. Because we want your fabric sofa and plush carpet to keep holding the beauty of your living room.
Tips to Clean a Fabric Sofa
The Sofa Cleaning Codes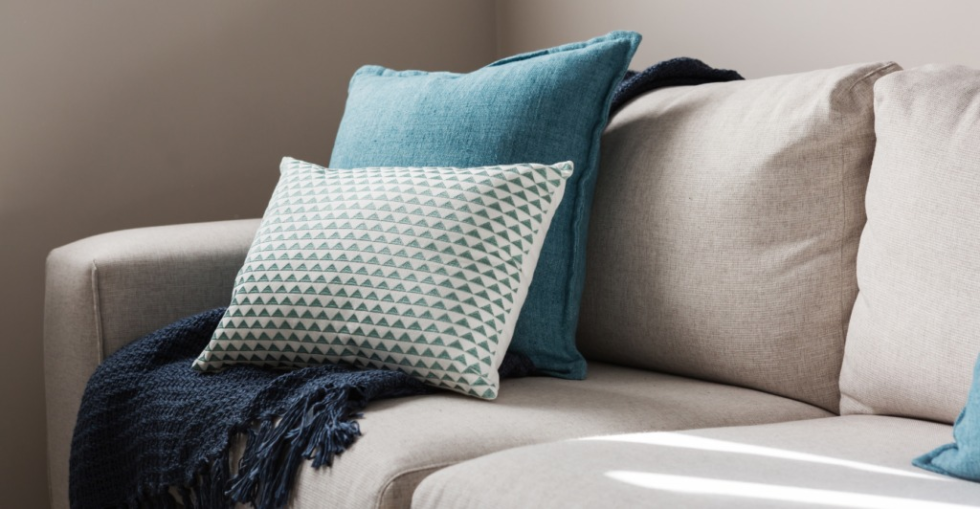 You may think sofa cleaning is an easy task, but hold on. You cannot use all kinds of cleaning products, and methods on your sofa. Some fabric sofas can get ruined if you use too much water, or too many chemical-based solutions while cleaning the dust, and stains from it. So, here is a key tip from the cleaning experts of Shiny Cleaners.
Your fabric sofa has some letters written on its label. These letters are the cleaning codes, which are made as a guide to help you while cleaning your sofa. So, always look for these codes on the label before cleaning, or else you might end up ruining your lovely sofa.
| | |
| --- | --- |
| Code | Meaning |
| W | Water-based solutions only. This means you can use water to clean your sofa. |
| S | Solvents. Such solutions are chemical-based solutions, that you can use to clean your fabric sofa. |
| W/S | Water-based and solvent. You can clean your sofa with any one of the two choices as both are safe for your sofa's fabric. |
| X | Clean your sofa using a vacuum, or brush. Liquid cleaners can harm the sofa fabric. |
Cleaning Codes
Instantantly Remove Stains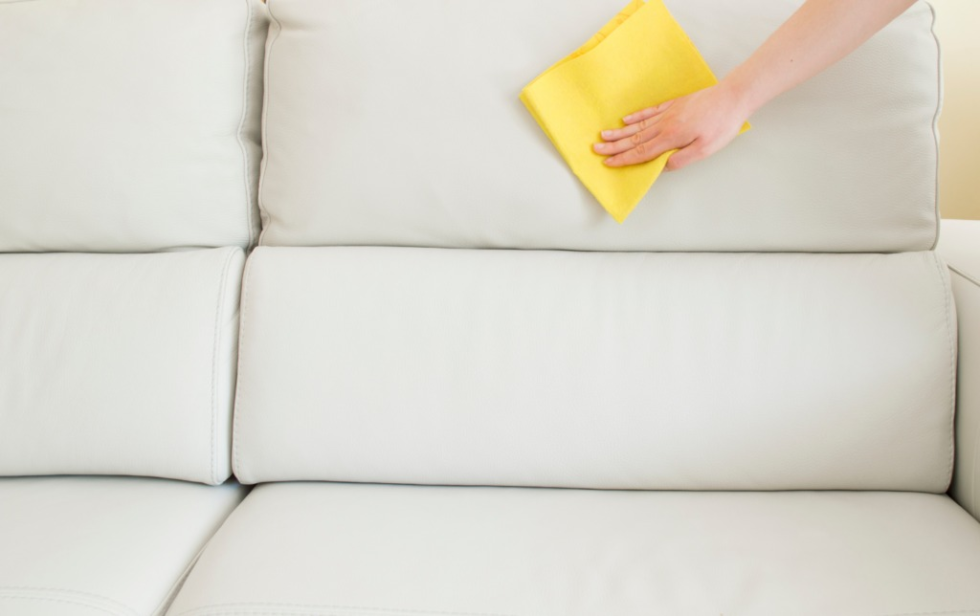 We spend most of our time in the living room. Be it watching TV, reading a book, or the kids playing. However, spills and stains are events that we cannot predict beforehand. If spills are not treated on time, there is a chance that they can turn into stubborn stains. These stains will not only cause discoloration to your lovely fabric sofa but also make your house smell bad.
Be it a carpet, or a sofa, experts at Shiny Cleaners believe in instant stain removal. That is why, you should immediately get rid of the stain, and prevent it from getting dry. Here are the steps that you can follow to quickly wipe off the stain from your sofa:
Take a clean, light-colored microfiber cloth
Use the cloth to blot out as much liquid as possible, and avoid rubbing the stain against the sofa
Take a spray bottle. Add in 1 cup of lukewarm water, a few drops of liquid soap, and vinegar
Shake the spray bottle well, and spray the solution on the stain
Dab a clean microfiber cloth on the stained area, and clean till the stain disappears. Remember to avoid any rubbing
Now spray some clean lukewarm water on the stained area, and pat dry it with a clean cloth
Vacuum to completely dry your sofa
The Magic of Baking Soda
Did you know baking soda has some amazing cleaning powers that can get rid of stains and odor from your sofa? So, you see, you can use baking soda as a cleaning agent for your carpets and upholstery, rather than only using it in baking.
Professional cleaners at Shiny Cleaners have designed this fabric sofa cleaning tip so that you can easily get rid of any stains. Here are the steps you can follow while using baking soda for upholstery stains:
Blot out the wet stain using a clean light-colored microfiber cloth, and avoid any rubbing
In a bowl, add ½ cup of lukewarm water and ½ cup of baking soda
Mix the ingredients well, and apply the mixture over the stain
Let it rest for 20-25 minutes
Scrape off the dried baking soda using a knife
Now, use a wet cloth and dab it over the stained area
Pat dry the stained area using a clean, dry microfiber cloth
Vacuum
However, always do a small patch test before using the baking soda mixture all over your stained sofa. This will prevent your sofa from any unrequired damage because baking soda might not be safe for all sofa types.
Detergent
You can also use fabric-safe detergents to get rid of any spills, or stains from your fabric sofa. Although, not all detergents are safe for your sofa's fabric, however, there are certain detergents that are made for the purpose of stain removal. An example of such detergent is Astonish Stain Remover Soap. You can easily use this soap to get rid of stubborn stains from your upholstery, but remember to completely dry your sofa after cleaning to avoid any uncomfortable odor.
Store-Bought Upholstery Cleaning Products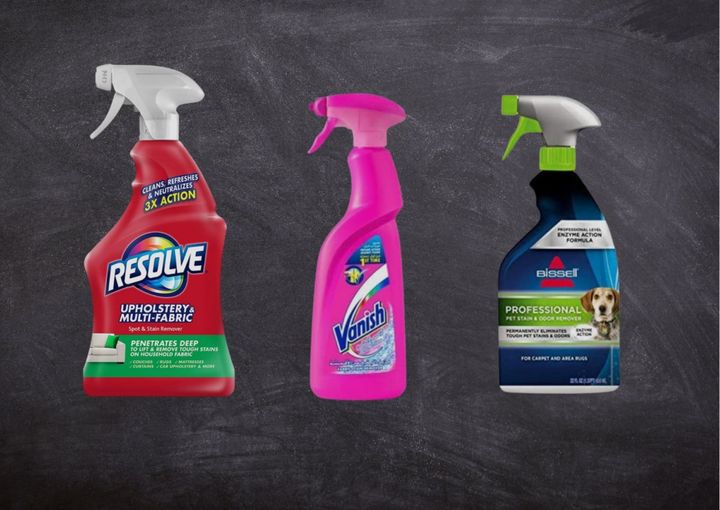 Home-based, natural cleaners look safe for your sofa's fabric as they have no extra chemicals in them, however, they take a lot of time to show their magic. If you want instant stain removal, then we suggest you go for a store-bought cleaning product.
Shiny Cleaners has already shared some amazing carpet cleaning products with you in one of our blogs. That blog has some multipurpose products too that you can always check out here. However, here are some amazing, instant working upholstery products that you can get for your fabric sofa. Be assured that all these products are tried and tested by our expert cleaners.
Pro tip: Do not forget to do a patch test before using it over your sofa.
Resolve Upholstery Cleaner & Stain Remover
Reasons to Buy:
Deep cleans upholstery
Immediate results
Gets rid of dust and odor
Fresh Scent
Does not discolor your fabric sofa
Gets rid of stubborn stains such as makeup, oil, and grease
You can get this from Amazon.
Vanish Oxi Action Fabric Stain Remover Spray
Reasons to Buy:
Gets rid of stains
Deep cleans
Fresh fragrance
No more odor
Safe for fabric
You can get this from Amazon.
BISSELL Professional Stain and Odor, Carpet and Upholstery Removal
Reasons to Buy:
Has the power of enzymes
Instant pet stain removal
Gets rid of stubborn stains such as oil, grease, pet urine, and makeup
No more odor
Safe for pets and fabric
You can get this from Amazon.
Vacuum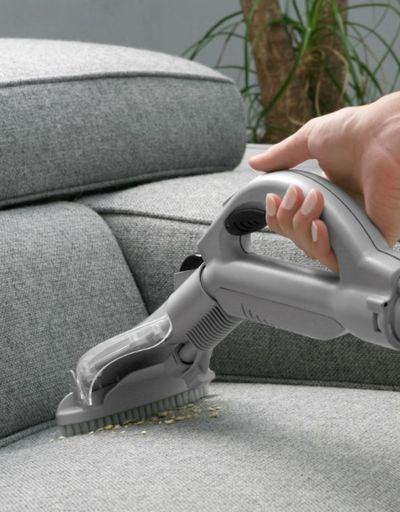 Just like your carpets, your sofa needs to be regularly vacuumed if you want them to last longer. Regular vacuuming will prevent dust and dirt from getting accumulated to form stubborn stains. Unclean sofas can easily get discolored and all patchy. This is why we recommend you vacuum your fabric sofa daily so that they get cleaned, and dust-free. Also, the cleaner your sofa, the cleaner the air in your house. So, it's a win-win situation!
The Power of Steam Cleaning
Just like carpets, sofas can be steam cleaned as well with an upholstery steam cleaner. However, always consult your sofa manufacturer before getting it steam cleaned. If your sofa's label has a W or W/S written on it, this means it can survive water. However, it does not tell whether your sofa can bear the heat of the steam cleaner.
Ideally, our shiny cleaners recommend you do a patch test before steam cleaning the whole sofa. Because who would want a grey patchy sofa, right?
Here are some tips that you can use while you steam clean your fabric sofa at home:
Always look at the package instructions of your steam cleaner
Vacuum your sofa to get rid of any dust, or dirt before you start steam cleaning
Try to get rid of any stains before you start cleaning
Steam clean your couch when you have some good amount of free time at hand as the sofa will take some time to dry completely
Turn on the van when you are done steam cleaning. It will help in the drying process
Always wait for the steam cleaner to cool down before packing it back
Pet Stains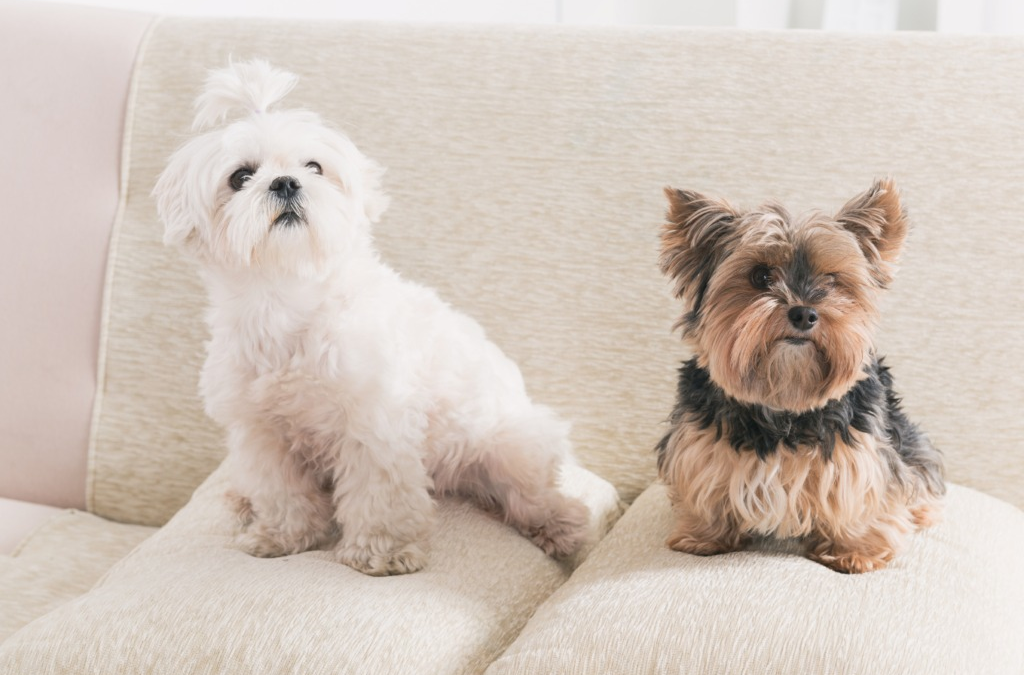 Our cat or doggo is our little bundle of joy. However, our little friends bring in a lot of dirt and dust when they are done playing outside. Also, pets can soil your sofa if they are not properly house-trained. Pet accidents can make your sofa look unclean, discolored, and at times, leave a very bad odor. We understand that it is difficult to let go of your lovely fabric sofa, especially when it is twinning with your elegant plush carpet.
Since pet accidents are something that we cannot predict before, our shiny cleaners have some amazing pet stain removal tips to clean a fabric sofa. You can completely trust us with these tips, however, like always, do a patch test before using these tips on your sofa.
Vinger+Baking Soda
Soak the pet stain with vinegar
Now sprinkle some baking soda over the stain
Let it rest for a day
Scrape off the dried baking soda from your sofa
Rinse the stained area with water
Pat dry with a clean microfiber cloth
Vacuum
Liquid Dishwash Solution
Blot out the fresh urine stain with a paper towel, and remember: No Rubbing
In a spray bottle, add 1 cup of water, and ¼ tsp of liquid dishwashing soap
Spray the solution on the stained area
Let it rest for 5-6 minutes
Now, use a clean microfiber towel and blot out the solution from the stained area
Repeat till the stain disappears
Rinse the stained area with lukewarm water and then pat dry
Vacuum to completely dry your fabric sofa
Frequently Asked Questions
How Often Should I Clean my Fabric Sofa?
Vacuum your sofa every time you vacuum your carpet. However, we recommend you get your fabric sofa professionally cleaned after every 8-10 months.
Can I Use a Shower Squeegee to Remove Pet Hair?
Pet hair can be a bit difficult to clean, however, you can use a shower squeegee to wipe away pet hair from your fabric sofa. Take a shower squeegee and rub it on your sofa in one direction. The rubber part of the squeegee attracts pet hair towards it; removing the hair from your sofa.
How to Clean Cushions of Fabric Sofa?
In the case of non-removable cushions, just wipe them with an upholstery cleaner and water, and then vacuum. However, if your sofa cushions are separate, you can use any good cleaner to clean them. For this, take a bucket of lukewarm water and add in some upholstery cleaner. Dampen a microfiber cloth in the cleaning solution and rub it over the cushions. Vacuum in the end.
If you need carpet cleaning services in Mississauga, Milton, Oakville, or Toronto reach out to our cleaners at 289-236-0898 or email us at info@shinycleaners.ca.