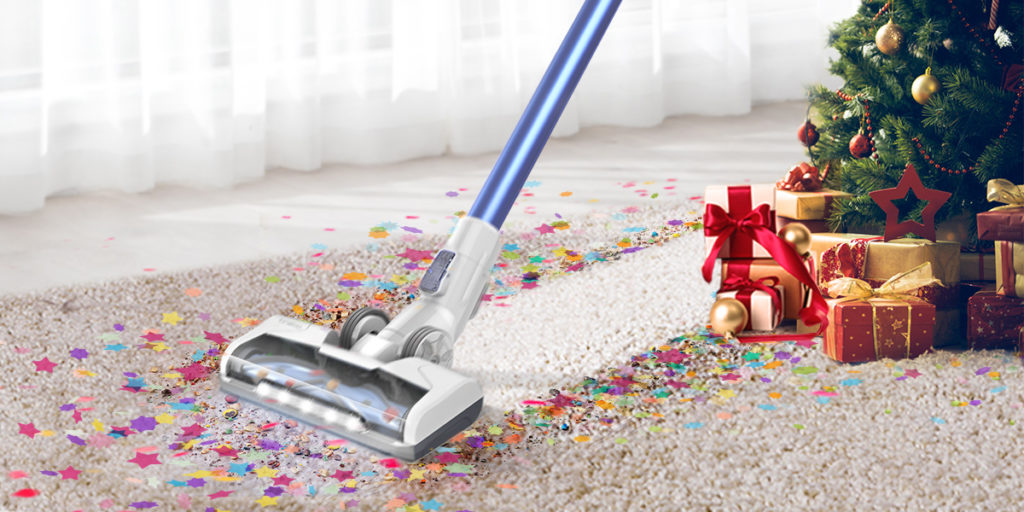 Carpets are a very important factor for the look of the room in which they are placed. When its time for the holidays, especially Christmas carpet cleaning and New Year, cleaning can be quite a chore with regards to taking care of and maintaining the carpet. That is why you should spend some time for the cleaning of the carpet in order to provide a good look for the room and for your own peace of mind.
In the holiday season like the afore-mentioned in which guests are invited and you try to keep your carpet neat and clean so that the carpet gives off a nice and presentable look and also gives off a nice odor because carpets play an important role in decorating the room. However, with regards to Christmas carpet cleaning and after New Year's where you might have guests, then there might be the chances of confetti as well as food stains etc. that land on your carpet and since most parties are usually held at night the host will save the New Year's and Christmas carpet cleaning for the next day which can leave some permanent stains.
Often, it is better to consult a carpet cleaning professional in this regard for the best possible solution and maintenance measures to undertake. Shiny Carpet Cleaners is an established brand in the carpet cleaning business and we have compiled 4 tips with regards to New Year's and Christmas carpet cleaning so you can learn more as well. If you are located in the GTA region (Mississauga, Toronto, Oakville or Milton), you can reach out to Shiny Carpet Cleaners at 289-236-0898 or email us at info@shinycleaners.ca for professional carpet cleaning services and solutions for Christmas carpet cleaning.
Before New Year's and Christmas Carpet Cleaning Tips
You should clean the carpet before the holidays and special occasions briefly because if you clean it very thoroughly and a mess will still be made inevitably as with regards to parties. However pre-New Year's and Christmas carpet cleaning is not a waste of your time and efforts as cleaning the spills as soon as possible will ensure no permanent stains are formed and your carpet gives off a clean and inviting vibe.
To prepare your carpets for the holidays you should vacuum it and dry clean it. You could also ask your guests to remove their shoes or ask them to wipe them. To clean and prepare the carpets you could either use steamer or wash it with carpet shampoo. Clean carpets will not only be more inviting but also will improve the appeal of your room and house as it will make your guests feel more comfortable while also facilitating post Christmas carpet cleaning/New Year cleaning as there will be lesser mess and stains to clean as compared to not cleaning it all before the parties.
Tips for Post Christmas and New Year Carpet Cleaning
Moving onto after-party cleaning of special events such as Christmas carpet cleaning and New Year's party carpet cleaning, the following carpet cleaning tips are advised and recommended to ensure your carpets not only look and feel good after the parties but will ensure they live to see the next ones.
You can also read more about post New Year's carpet cleaning by reading this.
Vacuuming the Carpet
All sorts of carpet cleaning, whether it is Christmas carpet cleaning, New Year carpet cleaning or just general carpet maintenance, vacuuming is a general solution for all of them. Vacuuming the carpet not only takes care of the removal of the dust and dirt stains on the surface of the carpet which can be caused by shoes of guests at holiday parties but vacuuming will also rid your carpet of any dusty smell.
You can learn some important tips for vacuum usage by reading this as well.
Quick Cleaning of Carpet Spills
Of course in such type of parties, carpet spills are bound to happen. However, if you don't remove the stains quickly the mess will be permanent or it will take a lot of time and effort to remove the stain. The stain should be removed as soon as possible so that it won't be a bother later. If the mess is of a liquid and it is large you can put a napkin or cloth on top of it so that it can soak the liquid and it won't be such a mess. You should also start by cleaning a small area and then you should vacuum the area properly and focus on the stubborn stains.
A common carpet spill in these holiday parties is the confetti. Of course, celebratory occasions like these involve confetti, glitter or sparkles which can all be quite difficult to remove properly. For post New Year's and Christmas carpet cleaning, you can read this for tips and tricks to remove these particles.
Care with the Christmas Tree
With regards to post Christmas carpet cleaning, the mess caused due to the Christmas tree is quite difficult to clean. Since cleaning and removing the damage that the Christmas tree has caused is very bothering due to the falling pieces of fir which get stuck in the carpet, you should try to protect the carpet by placing a sheet beneath the tree so no damage is caused to the carpet by the decorations laced on the tree or the actual firs from the tree. It is also recommended to be careful in the removal of the Christmas tree and do less damage as possible.
Carpet Cleaning Tips for Common Stains
To remove common stains such as chocolate, candy cane etc. To remove chocolate stains you can scrape them off with a butter knife and apply some detergent with water. To remove the sticky candy cane you should pour cold water and apply soap while also rubbing it. Beer can be removed by applying water mixed with vinegar and soap while rubbing it with a towel.
Another good way to remove stains from your carpet is to rub alcohol. Best ways to keep your carpet clean before the holidays you should vacuum it so that it won't waste your time much and after the holidays, to remove particular stains you should use the above- mentioned procedures. Another way is to keep a rug at the front door step so that the muddy shoes can be wiped so no mud will fall on your carpet. If you don't have much time and equipment you can call a professional carpet or dry cleaner to assist you.
Frequently Asked Questions
How to Prepare Your Carpets For The Holidays?
You can prepare your carpets for the holidays by cleaning them up by either vacuuming or use a carpet cleaning solution to remove the accumulated dirt and dust in it. Your carpets will definitely get dirty after the holidays so it is better to have a cleaner carpet so that post New Year or Christmas carpet cleaning is less tedious and your carpets will be more inviting to your guests as well.
Should You Clean Your Carpets Before or After the Holidays?
You should considering doing both since your carpets should be kept clean to avoid the risk of illnesses being spread because of the trapped dust and dirt on and in the surface of the carpets. Cleaning your carpet before the holidays will elevate the presence of the room for your guests and cleaning after the holidays is necessary due to the accumulated stains and whatnot.
How to protect the carpet from the Christmas tree?
As mentioned above, post Christmas carpet cleaning can be a real chore due to the mess caused by the Christmas tree. You can avert this by placing a sheet large underneath which itself should be enough to cover the entire circumference of the Christmas tree so that falling pieces of fir and decorations do not get stuck in your carpet.