If the whole car is cleaned and is still giving a feel as if it is not cleaned for years due to filthy carpet then what is the purpose of wasting your time, money, and effort in cleaning it if car carpet cleaning is not done yet?  
Car carpets are often one of the most ignored items from the cleaning point of view. It is not a thing to be ignored but is a necessary part of car cleaning and should be taken into consideration. You should include car carpet cleaning as a priority in your cleaning list and clean the car carpet regularly.
When it is your turn to clean the car deeply, cleaning the car carpet may not be preferably included in your to-do list but actually, the car carpet needs to be cleaned first.  Car carpets are the bottoms of your shoes and they are the first component that will be the victim of dirt when you step in your car along with your shoes. So, if you want your cleaning to show that the car is deeply cleaned, deep cleaning of the car carpet is very important.  If you want carpet cleaning services in Mississauga, Milton, Oakville, or anywhere in GTA (Greater Toronto Area), make a call to shiny Carpet cleaners at 289-236-0898 or email us at info@shinycleaners.ca.
Steps for Car Carpet Cleaning at Home
Car carpet cleaning at home can be taken as the cleaning of utensils. Follow the footsteps of utensils' cleaning and you are done with car carpet cleaning at home. Although utensils cleaning is a bit different and is less time-consuming. All is done in one step but the common thing in these two cleaning processes is the method of cleaning. So, these two can be related.
1. Make Space
Let us quote some examples here. When a utensil is to be cleaned, what do you have to do first? You first have to remove all the unnecessary things like a wrapper, and any leftover food items from it. Similarly, to clean a room in your house, you first have to put all the things in place and have to make space for mopping the floor.
The furniture should be in place to make it easy for sweeping. Portable furniture items can be taken out of the room at the time of cleaning Just like the cleaning of a room and a utensil, the car carpet should also be empty from all the extra stuff. Before you start cleaning it, there should be nothing left behind on it.  Now, take the carpet out of the car and start cleaning it.
2. Remove Dirt
If you have a vacuum cleaner, vacuum the car carpet but if you do not have it don't worry, there is a solution to every problem.
As you are cleaning the car carpet at home, instead of vacuuming it, different methods and tools can be used to sweep the dirt out of the carpet. Sweep the carpet with a broom and dustpan to remove all the dirt or use a stiff brush and scrub the carpet just like a utensil is scrubbed to remove all the dust out first.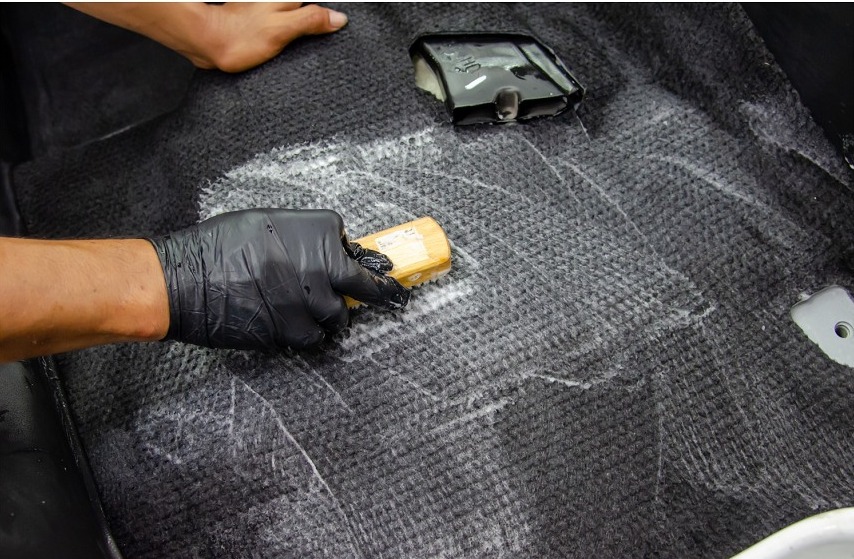 3. Shampoo the Carpet
You can use a solution of water and a dishwasher or a laundry detergent to shampoo the carpet. Shampooing the carpet is an important step to dampen the stains and remove any remaining dust particles from them. Rinse properly to let the shampoo spread all over the carpet including its edges. Wash the carpet with water to the shampoo out of it at the end. Some shampoo will be left behind but try to remove the maximum out of the carpet. Shampooing also adds to the beauty of the carpet as it begins to shine more after shampooing.
4. Remove Stains
Stains on the car carpet can be removed either by choosing carpet cleaning products from different companies according to your budget and requirements or homemade solutions can be used. Since you are cleaning the car carpet at your home so use the ingredients available in your home and get the stains out of the carpet.
Use a solution of hot water, vinegar, and dish soap to remove food stains. Beverage spills can be cleared by using a paper towel soaked with cold water. A mixture of baking soda and water can help you not only get rid of vomit stains but also baking soda is an excellent absorbent of unpleasant odors. Paint thinner is the best enemy against grease stains.
5. Dry the Carpet
Ok, so the last step is to dry the carpet. This is indeed a very important step. If the car carpet remains wet, mold growth can take place which leads to many health risks and smell as well. Do you want to sit in the car filled with this smell? Not! Take the carpet and place it under sunlight or a couple of two to three fans to get it completely dry.
Frequently Asked Questions
What household products can I use to clean my car carpets?
Make a solution of vinegar, water, and dish soap in equal parts and remove all the stains and dirt from your car carpet. This is indeed the most effective and cheapest way, from the point of view of the cost, of car carpet cleaning.
How to clean a car carpet without a vacuum?
Using a broom and dustpan to sweep the carpet can solve this problem. Scrub the carpet with soap and water and get a fresh carpet. A brush can be used to scrub the carpet. Use any of these tools to clean a car carpet without a vacuum.